Homepage Slider
A Familiar Face Returns to Lead Imagine Grinnell; 2016 Membership Drive Underway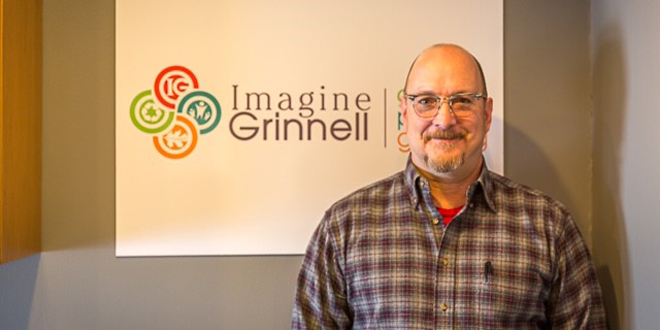 A Familiar Face Returns to Lead Imagine Grinnell; 2016 Membership Drive Underway
Rich Dana, who coordinated Imagine Grinnell's energy reduction program from 2006-08, has been hired as the quality-of-life organization's new executive director.
Since his earlier IG work, Dana has managed numerous renewable energy and historic remodeling projects through his own Plan B consulting business and taught sustainable living practices at Maharishi University of Management in Fairfield. His family owns and operates Catnip Farm near Guernsey, a 15-acre organic farm specializing in heirloom seed preservation.
"This is a great opportunity to get reconnected with Imagine Grinnell," Dana said. "I've continued a strong connection to the community and the organization since our energy project, and now I'm looking forward to 'reimagining' what we can do in the future."
One of his self-described passions in recent years has been to help establish makerspaces in communities, where individuals can share talent and equipment, especially high tech equipment that they may not be able to afford on their own.  "I see possibility for this type of co-learning to take place in Grinnell," he said.
Dana started his new role on January 11 and replaces former director Sarah Smith, who now works in the Office of Community Enhancement and Engagement at Grinnell College.
Imagine Grinnell Board President Liz Queathem said, "Sarah was a wonderful executive director, and her shoes will be very hard to fill. Fortunately, Rich is no stranger to Imagine Grinnell, as he ran the successful e-community program when we partnered with Alliant Energy to help Grinnellians reduce their energy bills. He also organized two Bioneers satellite conferences for us, and obtained funding for the Grinnell Area Petroleum Reduction Initiative, which looked at ways to replace petroleum products with biologically sourced products.
"We anticipate that his experience writing grants and running programs for the National Center for Appropriate Technology will be put to good use as the new executive director, and we are thrilled to welcome him back to Imagine Grinnell."
Dana will have regular office hours in Imagine Grinnell's office in the Ahrens Family Foundation building at Ahrens Park, Tuesday, Wednesday, and Thursday each week, from 8:30 to 5 p.m. and can be reached at imaginegrinnell@iowatelecom.net, 641-236-5518, ext. 223.
His first official duty is to launch the 2016 annual membership drive, which will run through March. Prospective members and businesses can join online through the Imagine Grinnell website at imaginegrinnell.org/joindonate, via email at info@imaginegrinnell.org, on Facebook at Imagine Grinnell Foundation, or by calling Dana.
"We welcome new members to join us and to contact me if they have interest in participating in our projects," Dana said. "We also invite previous members to rejoin, participate in our ongoing projects and bring ideas for new ones."
Individual memberships begin at $49, and family and business memberships start at $100. Memberships and the organization's annual talent auction fundraiser offset operating expenses and support projects such as the bike trail, growing garden, monarch waystations, Second Saturday events, seed saving library at Drake Community Library, and energy efficiency and solar initiatives.  Monthly deductions and restricted gifts can also be made to individual Imagine Grinnell projects.
The Claude W. and Dolly Ahrens Foundation provides back office support services to Imagine Grinnell through the foundation's Community Support Services (CSS) program.  CSS partners with the Greater Poweshiek Community Foundation, which is the umbrella organization for more than 15 nonprofits and 100 charitable funds in the greater Grinnell community to achieve greater efficiency and increased organizational capacity by sharing office space and administrative services.