Grinnell News
Grinnell City Council and Workers "Spring" into Motion
City Council and Workers "Spring" Grinnell into Motion
By Helen Hotchkin
The Grinnell Public Works and Grounds committee began planting 375 trees in the city parks and Hazelwood cemetery.  They are holding an official ceremony tomorrow at 9:00 am Wed, May 7, 2014 at  Van Horn Park with elected officials officiating. An Alliant Energy Grant and the Trees Forever program have allowed Grinnell the opportunity to plant the new trees for the Urban Forest project. This project was implemented to replace those trees lost to the Emerald Ash Borer. The Emerald Ash Borer is a deep concern since a recent study has shown that Grinnell is populated with 17% of Ash trees now. Dave Popp, from the Public Services Department, is reaching out for community volunteers to help plant the trees. If you are interested in helping to plant the new trees for an hour or the whole week, you may call Dave at 236-2632 or email him at publicservices @grinnelliowa.com.
 Grinnell's road construction crews are set to begin work today, May 6, 2014, with roads closed on 1st Avenue between East Street and the railroad tracks. The project is scheduled to be completed late May 9th.  Next week road construction will begin on 4th Avenue from the railroad tracks to Park Street.  Next year the crews will begin to focus on 4th Avenue west. 
The council discussed the new Great Places Committee members and upcoming meeting. The list of members include Sondi Burnell, Dan Tindall ,Monica Chavez, Kelly Rose, Nicole Brua-Behrens, Leslie Wright, Todd Abrahamson, Jim White, Kay Cmelik, Sally Lang, Dodi Reilly, Don Schild, and Gordon Canfield.  They will talk about the program, application and possible projects that might benefit from the grant funds.  Possible projects include Art Council,  Cultural Affairs and Central Park. Great Places is a temporary 'task force' as such, and not intended as a permanent committee. "We've had this committee in the past," Mayor Canfield stated, "and it worked great."  Their first meeting is scheduled for Tuesday, May 13, 2014 in the City Council Chambers at 10:00 a.m. 
If you have a valid driver's license and proper registration for your golf cart, the city council members voted to allow you to drive it on certain city streets. Although there was quite a bit of discussion as to whether liability insurance coverage would be required, it was eventually agreed to include a notice to those who register their golf carts that liability insurance is highly recommended.  The council voted 4/2 against insurance regulation. Registered golf carts will not be allowed in the downtown area and highways 146 and 6 (except to cross.)  A full copy of road use regulations will be handed to those who register.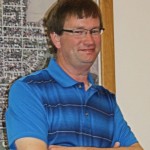 The council also approved Chris Bair to fill the vacancy into the planning and zoning commission. Bair's term will end June 30, 2018. Rick Graves was also approved as the new Wastewater Superintendent effective June 1, 2014.
The sanitary sewer project at Arbor Lake is prepared to begin as soon as the ground saturation is appropriate. This project should only take 3-4 days as frame and lids are replaced, new liners and seals installed, and other similar needs are fulfilled.
The council also approved the proposal for subsurface exploration for the Highway 6 underpass according to IDOT regulations. These IDOT regulations require no guard rail on the stream's west side because of safety concerns. This will mean extending the slope of the box culvert and time restrictions.
Worley made another appeal to the public to get your appointments made for the sump pump inspection. This is required by the city whether you have a sump pump or not. To make your appointment, call 236-2600. If you don't make your appointment for inspection the fees on your water and sewage bill will go up January 1, 2015.
The next city council meeting will be held May 19 at 7 p.m. on the second floor of the community center.