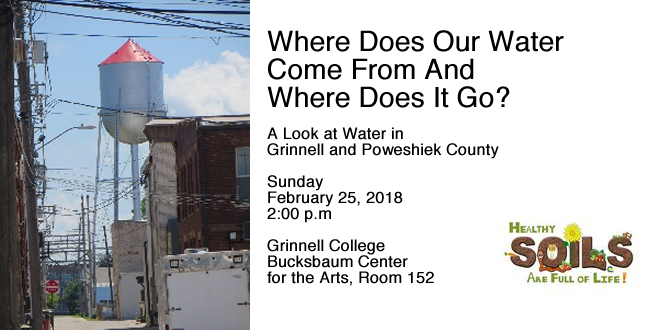 Where Does Our Water Come From & Where Does It Go?
A Look at Water in Grinnell and Poweshiek County
Sunday, February 25, 2018, 2:00 p.m.
Bucksbaum Center for the Arts, Room 152
Water comes from the tap and goes down the drain.  This is the extent of most people's knowledge about where their drinking water comes from and where it goes.  In this panel presentation you will learn what you should know about the sources of drinking water in Grinnell and Poweshiek County and what happens to waste water.
Moderator: Peter Jacobson, Professor of Biology, Grinnell College, has been teaching at the college for the past twenty years. His research spans a range of topics, from the influence of changing land use and hydrology on Iowa's rivers, streams and wetlands, to the influence of prairie reconstruction on surface and groundwater quality. He has also worked extensively studying patterns of water development and their influence on the rivers and aquifers within the Namib Desert in southwest Africa.
Panelists:
Jan Anderson, Water Resources Director, City of Grinnell, started working for the city as an engineering technician in 1979, working on storm sewer, sanitary sewer, water main and street construction through the community.  Then in 1982 he was named wastewater superintendent and in 1986 was promoted to the water resources director overseeing the water, storm and sanitary sewer departments.  During his time working as wastewater superintendent and director he has been through a wastewater treatment plant upgrade as well as an upgrade at the water treatment plant.  In 2000, helped with the development and construction of a new deep water well.  Jan has a Bachelor of Arts degree in geology from Central College and a Master degree in geology from the University of Iowa.
Chad Coburn, Executive Director of Poweshiek Water Association, has had a diverse experience in rural water over the last 17 years.  He began as a GPS/GIS technician, followed by positions as an inspector, environmental coordinator and project manager before moving to the Executive Director position 13 years ago. Working with legislators at the state and federal level, the Iowa Department of Natural Resources, several funding agencies, small communities, commercial businesses and individuals have contributed to his knowledge.  Mr. Coburn currently sits on the Iowa Rural Water Association Board of Directors, chairs two committees, an officer on two more and a representative on two others.  He was appointed to the Iowa Watershed Improvement Review Board (WIRB) by former Governor Branstad in 2017 and is an Advisory Board Member for the Little Bear Creek Watershed Improvement Project in Poweshiek County.
Mindy Sieck, Watershed Coordinator with the Poweshiek Soil and Water Conservation District (SWCD), has worked on improving soil and water quality within the county since 2008.  In 2017 the SWCD received the Conservation Districts of Iowa and Division of Soil Conservation and Water Quality's Outstanding Watershed Award, due to its efforts in conservation and diligence in recruiting funding from federal, state and local sources for the Little Bear Creek Watershed Improvement Project.  Mindy has developed working relationships with a diverse array of partners within the watershed, who have assisted the District in educating the public and its youth on the importance of conservation and water quality improvements.  Prior to her work with the District, she worked as an Environmental Scientist II with the Kansas Department of Agriculture, Division of Water Resources, Subbasin Water Resource Management Program between 2001-2006.  In Kansas, she assisted with the implementation of proactive long-term water resource management programs under the water rights administrative system with input from the regulated community and general public, collaborating with other scientists on the Solomon Basin and Ogallala Aquifer to develop water management strategies that met the approval of the State Chief Engineer.  Mindy graduated from Loras College in 2001 with a Bachelor of Science degree, biological research major.  She has 18 years of experience with soil and water conservation, which includes working with the Nature Conservancy, Iowa Chapter on prairie restoration, and the Iowa Department of Natural Resources with various monitoring efforts including aquatic vegetation, fish, invertebrates, freshwater mussels and water quality.
Matt Tapken, Poweshiek Water Association's Chief Operations Officer, has been operating water and wastewater systems for 23 years, 21 of those for PWA.  A current Grade 4 Water Treatment and Distribution Licensed Operator as well as former Operator of the Year, Mr. Tapken is extremely well versed in water treatment and the distribution of water with a great understanding of groundwater, wells, water chemistry, plant operations and maintenance, keeping water fresh, safe and good tasting.  By also holding a Grade 3 Wastewater License to provide oversight on the four wastewater systems PWA owns and operates, Mr. Tapken's licenses allow Poweshiek Water Association to provide services in water and wastewater to our members.  Mr. Tapken has provided oversight on RO plant construction, treatment plant expansions, well field and well development, booster station and water tower construction.   For the past several years, Mr. Coburn and Mr. Tapken have worked together to educate and assist small communities and businesses to best practice to improve water quality, efficiency and solvency.
NOTE: On February 7, 2018, the Poweshiek Water Association was one of five finalists competing in the Great American Water Taste Test for the best tasting drinking water in the United States.  Although the judges in the end awarded the top prize to water delivered by a utility in Wisconsin, it is a point of local pride that the P.W.A. is providing its customers with some of the best tasting water in the county