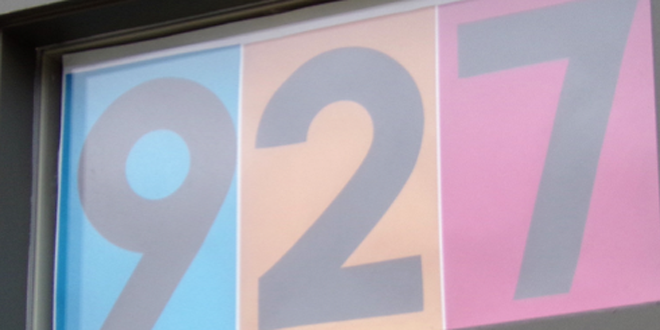 927 Calls for Questions, Comments, Support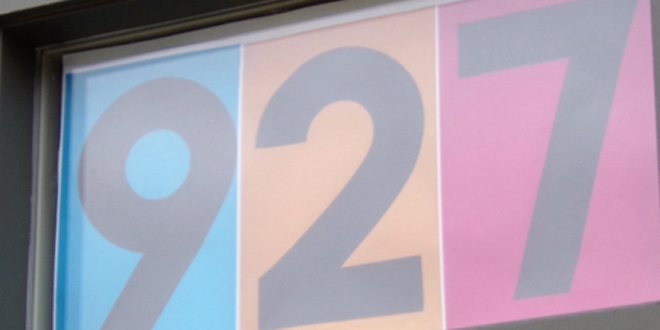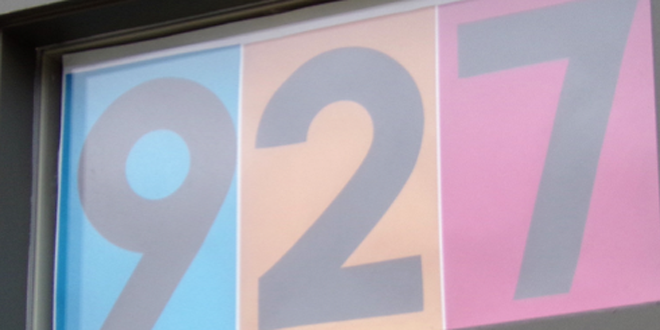 By Michael McAllister
"To improve the social, cultural, and economic vitality of the downtown"—such was the aim of a task force set in motion late last year by Mayor Canfield.  Following a series of meetings, community representatives, interested parties, and just plain people drafted a set of basic considerations relating to those broad aims.
Each consideration was assigned to a group or agency for further development.  For example, "Develop and implement a sign program that will improve business visibility to consumers with emphasis on retail business" went to the Grinnell Hotel and Motel Tax Committee.  Other proposals were consigned to organizations such as POW 180, the City of Grinnell, and the Chamber of Commerce.
One downtown innovation is already underway.  While it may not fit precisely into one of the considerations of the task force's draft, it nonetheless promises to add diversity, vibrancy, and creativity to the downtown Grinnell experience for both participants and passersby.
For the time being, we can call it 927.
In a press release of February 2, published in Our Grinnell, the Grinnell Area Arts Council announced an agreement to rent space at 927 Broad Street "to support local artists and makers."  Building owner Craig Cooper commented that he was pleased to see the building used "in a community-minded way."
On Monday, March 6, the building was opened to interested parties with opportunities to view the rooms as they now exist and to engage in a question-and-conversation session with some of the people behind the project.  Organizers billed the event as an "Open House and Info Session."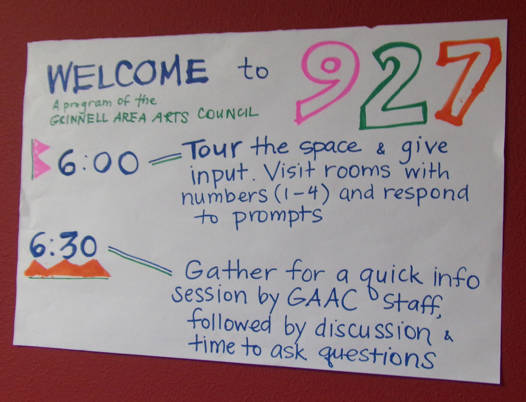 Those attending were a mix of musicians, artists, art supporters, and the curious.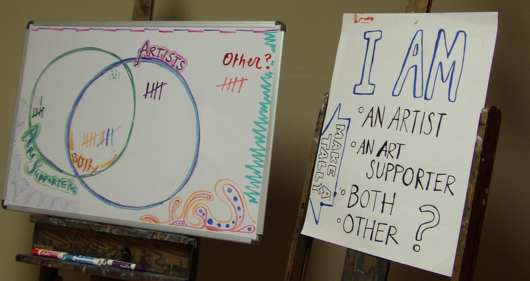 As visitors toured rooms and visited with Grinnell Area Arts Council personnel, such as Tom Lacina, below right, they were invited to register opinions and questions.  Four rooms were open, each offering opportunities for what might be called interactivity of a non-digital nature.  In other words, people could express preferences through tic marks, stickers, written comments, and donations.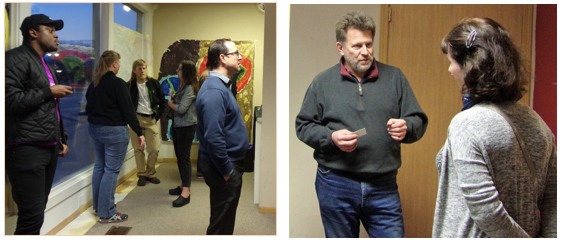 At approximately 6:30 p.m., attendees moved to the Arts Center across the street for an informal discussion in the round facilitated by Katie In and Erik Jarvis of the Grinnell Area Arts Council.
The idea behind the program calls for providing spaces, tools, and supplies to those who wish to create.  An artist could rent space for a day or longer to work on paintings, to construct a sculpture, to edit video, to create music—to do, in short, what artists do—all while interacting with other artists and enhancing the creative culture of Grinnell.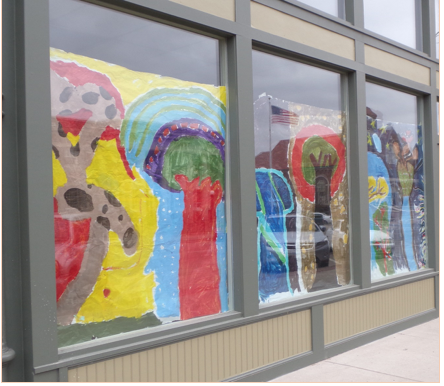 The large windows could showcase creations and promote retail items during certain times of the year.  Plans call for the entry area to be opened by removing some walls so that it can be used for displays and for meetings.
The project would focus on local artists and would defne the term "artist" quite broadly:  Think art meets DIY meets rock 'n' roll.  There is a possibility that an actual garage could become incorporated into the facility, making the emergence of a literal garage band plausible.  Another use of the garage area is as a makerspace, and the newly formed organization called Grinnellmakers has been in touch with arts council personnel in this regard.
A tool room is another possibility, allowing participants opportunities to make use of supplies and implements not always available to the casual creator.  In fact, one suggestion calls for a complex tool room with more sophisticated equipment and a simple tool room for the less adventurous.
Even outdoor space in the rear of the building suggests a deck and the potential for pop-up art.  Lacina noted that establishing "creative and dynamic use of of small outdoor spaces" is one of the tasks assigned to the Grinnell Area Arts Council by the mayor's task force, the aim being to "provide unique gathering spaces that will also help to provide a small market ambiance to the downtown."
And there are possibilities beyond 927.  One of the goals of the project is, according to Lacina, to help artists evolve and expand, perhaps using other spaces in other buildings in downtown Grinnell.  Approximately twenty percent of the downtown is vacant, so the use of spaces by artists could be a solution beyond traditional retail enterprises.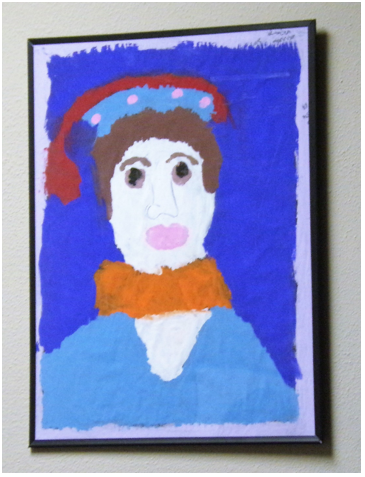 "The arts empower. The arts give a voice to the voiceless. The arts help transform American communities and … the result can be a better child, a better town, a better nation and certainly a better world," states Robert L. Lynch, President of Americans for the Arts.  The concepts behind 927 can help Grinnell participate in these worthy ends.
The next scheduled event involving 927 comes Friday, April 28, with a potluck at 6:00 p.m. and music to follow.