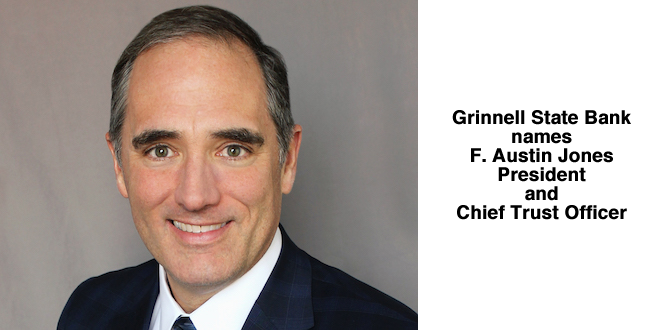 Grinnell State Bank Names F. Austin Jones President and Chief Trust Officer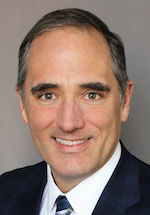 Grinnell, Iowa, January 31, 2018: Grinnell State Bank today announced F.Austin Jones, 53, is a 31-year veteran of Grinnell State Bank and has been the Bank's Senior Executive Vice President, Chief Financial Officer and Senior Trust Officer since 2012 and President of Grinnell Investor Center, the Full-Service Investment Advisory Service, since 1996. Jones has been involved with every department and service of Grinnell State Bank throughout his career. The primary divisions he has managed have been the Deposit Products, Computer Operations, Bank's Investment Portfolio and Trust Division.
Replacing F. Austin Jones as Senior Executive Vice President and Chief Financial Officer will be Fitzpatrick A. "Rusty" Jones. Rusty has been with Grinnell State Bank since 2004 and was the Executive Vice President and Security Officer. Rusty is responsible for overseeing the Loan Department and specializes in commercial lending.
"Over the past three decades, Austin has shown excellent leadership capabilities through his insight to ask the right questions, willingness to listen and then work to find solutions," said John R. Smith, Director of Grinnell State Bank and owner of Smith Funeral Home. "He has proven to all of the Board to be a successful and trusted leader. Also, Austin's commitment to Community has been a strong proponent for him. We have been impressed with his involvement as Past President of the Greater Poweshiek Community Foundation, Chairman of the Mayflower Community, Founding Officer and Director of the Grinnell Regional Medical Center Foundation, and 30-year Treasurer of the United Church of Christ Congregational. He has shown excellent leadership skills and vision."
"The Board unanimously supported the nomination and election of Austin for President of Grinnell State Bank. His leadership and experience; his unique ability of strategic thinking; and strong financial understanding made him perfect for carrying the Bank into the future," said Roger Roland, Board Consultant and CPA with Roland & Dieleman, CPA's.
"I am very excited and humbled by this honor to serve as President of Grinnell State Bank. This Bank has been a life long journey. I am so proud to be a third generation in the Bank. That carries a lot of responsibility for me. Every day I have my brother and father working with me; they have been incredible mentors, as well as my late grandfather, Fred Jones, former President and Chairman and mother Marion A. Jones, Director. I am proud to have a fourth generation working beside me. We are a family Bank, which is committed to our community. We are very honored to be part of the incredible growth that is happening in each of our communities. We want to grow with you," said Jones.