Grinnell News
8th Boys Iowa Intensity 20-4 Going Into The Holidays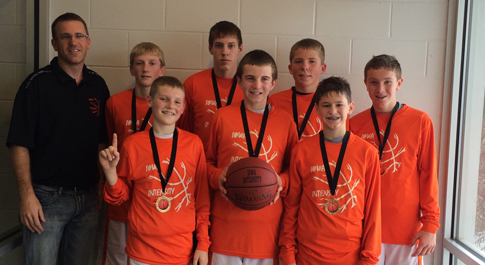 December 14, CICS Grinnell tournament:
Iowa Intensity was down to six players for the weekend due to injuries in game 1 on they beat the CR Irish 68-18 with the following statistical leaders both from Grinnell:  Brevin Hansen 20 points and 6 assists, Ethan Mitchell 19 points and 13 rebounds.  In game two they faced the CR Kennedy Cougars and won 50-30 after a slow start trailing 0-7, they were led by Garrett Sturtz (from Newton) 16 points, 8 rebounds and 7 steals while Jesse Van Wyk (Sully) pulled down 13 rebounds and Brevin Hansen's 7 assists, but the point when the Intensity pulled away was when Garrett Loftin drained three 3 pointers in a short stretch midway through the 2nd half.  The Championship game opponent was a very familiar foe in the Southern Iowa Thunder with the Intensity team was playing for the 4th time this season already (the Intensity had won the prior 3 meetings), the Intensity trailed by 11 in the early second half before outscoring the Thunder 27-16 in the last 14 minutes of the game to win 45-40.  They were led by Brevin Hansen and Garrett Sturtz's 13 points each and Garrett Sturtz's 8 rebounds.
December 15, Davenport Winter Blast tournament:
The first game on Sunday was against the Bettendorf Bulldogs the top team from Bettendorf.  The Iowa Intensity never trailed and won 46-35, led by Garrett Sturtz's 13 points and Brevin Hansen's 12 points and Jesse Van Wyk's 8 rebounds the difference was down the stretch of the game when the Intensity made 12 out of 15 free throw attempts.  Game 2 came against the North Scott Lancers, the Intensity trailed by 14 at half and was able to tie the game up in the 2nd half but ran out of gas as the fatigue of playing 5 games with 6 players started to show.  The team came back behind Garrett Sturtz's 16 points and Logan Abrahamson's three 3 pointers.  The final game of the weekend came versus Sterling Illinois and the Intensity won 42-32 behind Ethan Mitchell's 15 points.
The Intensity are now have 20 wins and just 4 losses as they pick play up again in two weeks at which time they hope to be back at full strength.