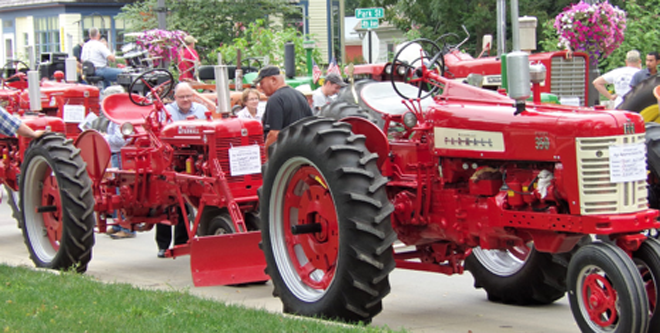 Ag Appreciation Day Yields Bumper Crop of Goodwill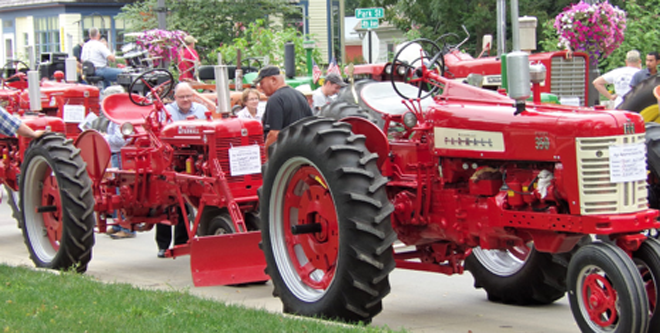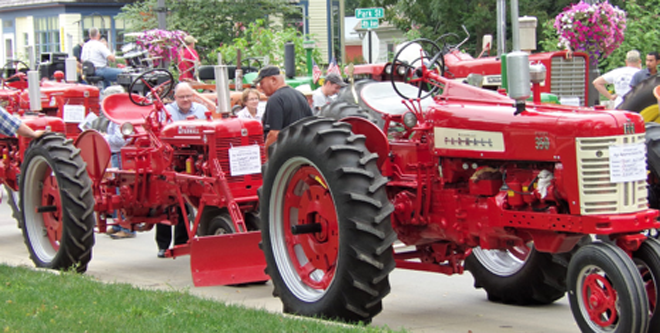 By Michael McAllister
Thursday, August 31, was a perfect day for farming. And it was also a perfect day for paying respect to farmers.
That is precisely what Grinnellians did, with the help of the local Lion's Club, in a twenty-three-year-old tradition known as Ag Appreciation Day.
New and classic tractors and implements, educational displays, a petting zoo from the Grinnell-Newburg FFA, classic pop and rock music from Route 66, grilled food from Hy-Vee, keynote speakers from Iowa State, recognition awards—all blended to create a memorable event. And, of course, there was the tractor parade that capped the day's festivities.
This year the event bordered Central park on the east, filling Park Street, and took in portions of both Third and Fourth Avenues.
Special offerings included an antique reaper, courtesy of the Grinnell Historical Society, an educational booth from Iowa State University, and informational displays from the Poweshiek County Conservation Service, Monsanto, the Little Bear Watershed, and even the United States Postal Service, which provided two mail trucks for display as a prelude to the centennial celebration of Grinnell's post office building in 2018.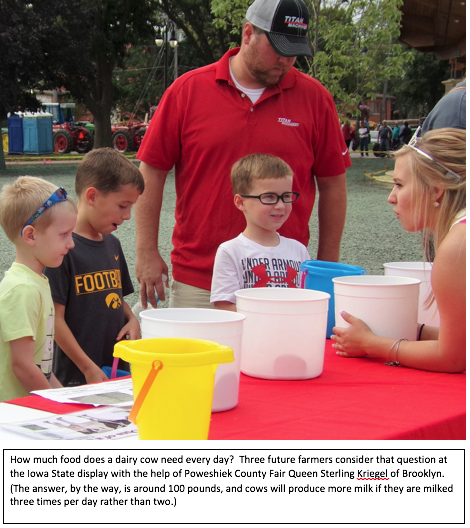 "We have so much history to celebrate here in this fantastic community," asserted Mike Pearson (right), MC of the event, with the enthusiasm that infused all of his remarks. He praised the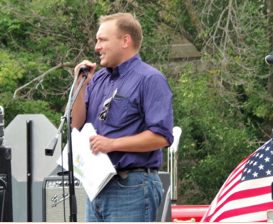 people "in the yellow shirts" for not only arranging this year's event but also for resurrecting Ag Appreciation Day when it had faded several years ago. Pearson went on to detail the Lions' dedication to vision health, among other services, and to encourage anyone looking for a way to give back to the community to consider membership in Grinnell's Lion's Club.
Pearson also noted, "If you're a Cyclone fan, it's a good night to be in Grinnell!" Here he made reference to the two guest speakers from Iowa State University.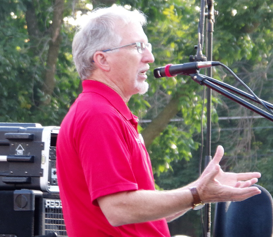 Dr. John Lawrence (left) was the first. Lawrence is Interim Vice President for Extension and Outreach at Iowa State University. His presentation focused on the history of land grant universities and extension services, which date to Abraham Lincoln who signed the Morrill Act of 1862. In true democratic fashion, the Morrill Act sought to provide for "the education of the sons and daughters of the common man." Iowa took full advantage of the act, and by 1903 Iowa State's extension service was operational, sending professors on "the Corn Train" to provide short courses where required. In 2018, the Poweshiek County Extension Service will celebrate 100 years. Today, Lawrence noted, Iowa State officials refer to the university's "ninety-nine-acre campus."
Dr. Lawrence introduced a second speaker, Iowa
State's Dean of the College of Agriculture and Life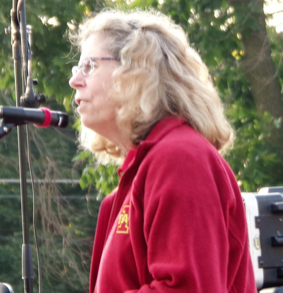 Sciences, Dr. Wendy Wintersteen. Her agriculture
career started in Davenport as a crop specialist.
Now she presides over agricultural programs at the
third largest agricultural college in the nation, Iowa
State. Dr.Wintersteen is proud of hosting the
nation's largest career fair every year in the fall
and the second largest every spring. Such
promotion generates an eighteen-year placement
rate of 98% of matching graduates to jobs. "If you
have a child or a neighbor looking for a career,
agriculture [offers] a wonderful set of
opportunities," she stated. Fifteen different
departments make up the College of Agriculture at Iowa State, and they encompass areas ranging from the biological sciences, agricultural engineering, business, and economics. Also, Dr. Wintersteen noted, "Ag entrepreneurship is a growing phenomenon at Iowa State," referring to participants who have already established a business, with the university's help, by the time they graduate. Dr. Wintersteen was also proud of another form of department success: a student majoring in agricultural biochemistry, Jacqueline Ehrlich of Dubuque, is this year's State Fair Queen.
Grinnell-Newburg FFA students made sure that farm animals were not left out of Ag Day proceedings.
Each year, an important component of Ag Appreciation Day ceremonies is awarding recognition to a farm family and an agriculture-related business.
The farm family award comes at the behest of Jim Urfer. In fact, it bears his name: the Jim Urfer Spirit of Farming Award. Urfer, of Grinnell Implement, was "fully committed to his community," Mike Pearson noted, and the award is a way of carrying on his dedication to agriculture and to Grinnell and the dedication of others who share his commitment.
"This year," announced Pearson, "the Lions Club is proud to present the 2017 Spirt of Farming Award …to the Stan and Pam McIlrath family (below)."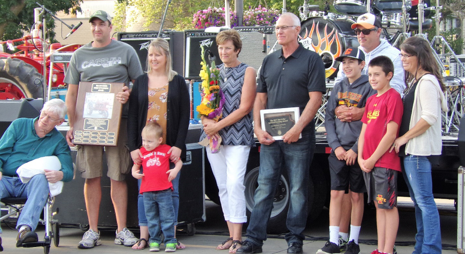 The McIlrath's live on a century farm established by James Paul McIlrath, in 1894, about eleven years after his arrival in the United States from Ireland. Corn, soybeans, and custom hay bailing are current farm priorities, although a cow herd was part of the operation for more than thirty years.
The Ufer award recognizes a farm family that operates in the Grinnell area, practices good farming techniques, manages resources wisely, practices conservation, and is involved in the community.
Stan McIlrath exceeds all requirements and then some—for example, involvement with the Poweshiek County Fair, volunteering with the Poweshiek County Volunteer Fire Department, and lending his skills as an auctioneer—honed for thirty-eight years—to worthy causes such as the Children's Cancer Connection of Iowa.
Recipients of the award receive a $100-dollar gift certificate from West Side Diner, flowers from Bates Flowers by D'zyne, a plaque for their home, and the family name engraved on the Jim Urfer memorial plaque that is displayed at Grinnell Implement.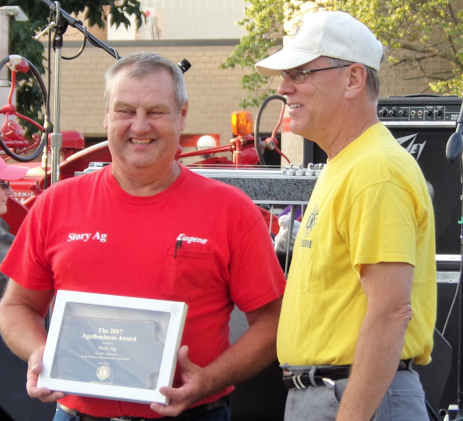 "Strong farmers make strong businesses—make strong towns." That sentiment, MC Pearson announced, is the philosophy behind the agri-business award that is also a firm part of AgAppreciation Day.
This year's award was garnered by Gene Story of Story Ag (above left), provider of animal feed, fencing materials, gates, feeders, bailing supplies, and more to Poweshiek County and beyond.
Located at 532 First Avenue west of Grinnell, the representatives of Story Ag "know the customers by their first names," Pearson noted. Services include grinding and delivering bulk feed to operations in the area.
The Story's also farm about two-hundred acres, so they know the needs of farmers firsthand. Story Ag, incidentally, provided free bottles of water for thirsty attendees of the Ag Day event.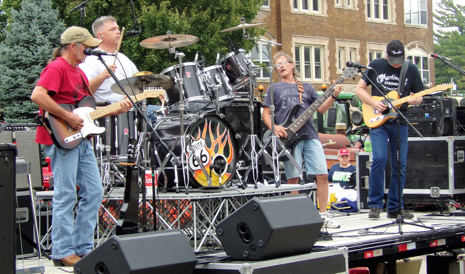 Thanks to Route 66 for the music.
At the conclusion of the awards presentations, Pearson referred to the "five lines of glistening red, green, and–especially this year—beautiful Allis-Chalmers orange" tractors that waited patiently behind him, ready to be fired up and roll.
The Allis-Chalmers reference acknowledged Seth Cline's restored 1950 A C that led the parade.
Ag Appreciation Day is a perfect blending of town and country. The entities need one another, and Grinnell is blessed with not only a forward-thinking business and entrepreneurial community but also a hard-working, no-nonsense agricultural base to support it. May the association of town and country always be strong.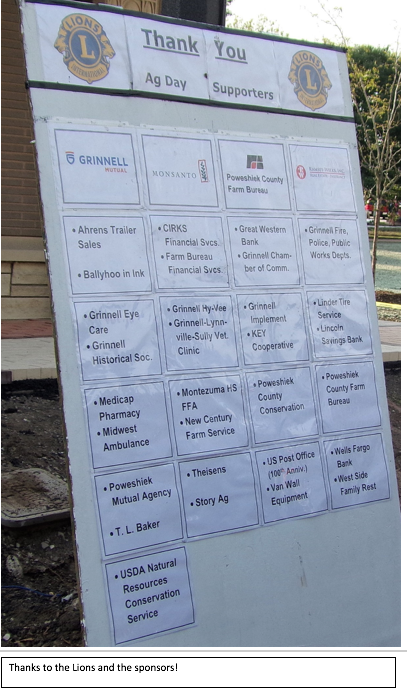 Thanks to the Lions and the sponsors!