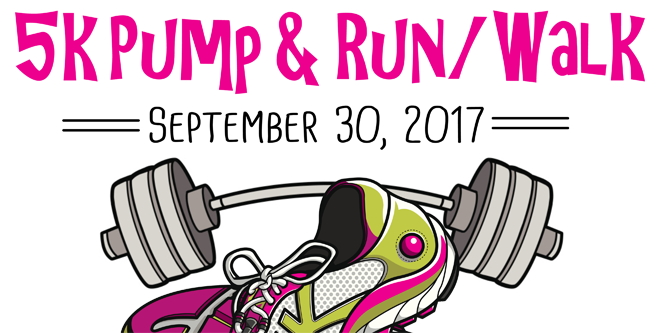 5K Run, Walk or Pump & Run/Walk Fundraiser to Benefit the Hammond Center for Assisted Living Building Campaign
(Grinnell, IA – September 9, 2017)  Walkers, Runners and Weight Lifters are invited to demonstrate their fitness during a 5K Run, Walk or Pump & Run/Walk at 9 AM on Saturday, September 30. This community event is being hosted by the St. Francis Manor Foundation with proceeds to benefit the Hammond Center for Assisted Living Building Campaign which plans to add 20 much-needed assisted living apartments to the Grinnell community in 2018.
This race will offer four different participation levels:  Run, Walk, Pump & Run or Pump & Walk. The scores for participants who register to either Pump & Run or Pump & Walk will be based upon their 5K Run/Walk time reduced by 15 seconds for each successful time they are able to bench press a percentage of their body weight based on lifting divisions listed in the Race Information available at www.stfrancismanor.com. Pump & Run participants can weigh in and lift between 6:30 and 8:30 AM on race day in the Rehabilitation Clinic at St. Francis Manor. For those participants choosing to only run or walk, check-in begins at 8:00 AM at the St. Francis Manor main entrance.
The race will begin at 9:00 AM with refreshments available following the race. Winners will be announced at 10:30 AM. First-place medals will be given to the top male and female finishers in each age group. We appreciate Grinnell College offering the use of its timing equipment for this event and to Rob Hanlon for providing the weightlifting equipment.
This fundraising event is being made possible through sponsorships from the following businesses:  Platinum Sponsor: Charnetski, Lacina & Clower; Gold Sponsors: American Masonry, Bushong Construction Company, Great Western Bank, Grinnell Mutual, Malcom Lumber, Medicap Pharmacy, Select Structural Engineering and Starnes TV & Appliance; Silver Sponsors: Global Reach, Grinnell College, Hurk Underground Technologies and Manatt's Inc; Bronze Sponsors: Anna Kayte's Boutique/Awards Unlimited, Brooklyn Medical Clinic, Carpet Cleaning Sarasota, Cranston Landscaping, Faas Construction & Excavating, Grinnell Outdoor Power & Service, Hy-Vee, Jeffrey A. Schwarck Financial Services Co., JP Drain Cleaning & Plumbing, Mid Iowa Real Estate, Auctions & Appraisals, Pagliai's Pizza, Poweshiek Abstract Company, Total Choice Shipping & Printing and Wes Finch Auto Plaza.  In addition, The Grinnell Herald-Register, Pennysaver, The Poweshiek County CR and Martin Bros. Distributing are providing in-kind donations for the event.
"I have always loved doing Pump & Runs," says Julie Klein, Fitness Specialist for St. Francis Manor and Seeland Park. "Since I am not a fast runner, it provides me the opportunity to use my strength to decrease my race time. With several race options for participants to choose from, this is a fantastic event for families and friends to participate in together.  It not only brings a positive social aspect to staying fit but also brings all ages closer together. We want to challenge all ages to stay healthy, active, positive and energetic!"
Registration fees are $25 for the 5K Run or Walk and $35 for the 5K Pump & Run or Pump & Walk. Participants may register up until 8:00 AM on September 30, but will only receive an event T-shirt if they register by September 18.  For more information or to register online, visit www.stfrancismanor.com or stop by the St. Francis Manor Administration Office at 2021 4th Avenue in Grinnell for a registration form.