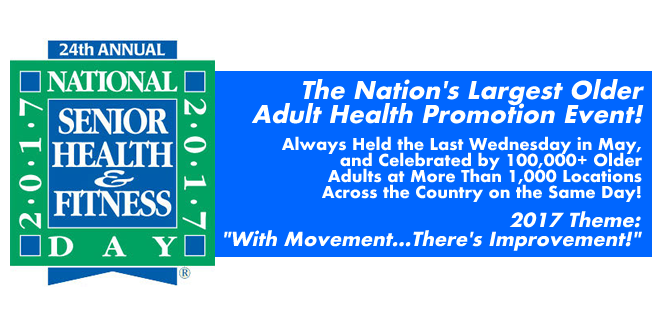 St. Francis Manor & Seeland Park Plan a "National Senior Health & Fitness Day® Celebration" with Event Open to the Public on May 31st  
Local Organization Part of National Event to Promote Healthy Lifestyles for Older Adults
(Grinnell, IA – May 12, 2017) —On May 31, St. Francis Manor & Seeland Park will join more than 1,000 organizations nationally to celebrate the 24th Annual "National Senior Health & Fitness Day."  As an official host site, St. Francis Manor & Seeland Park invite the public to join in the fun at this free and upbeat event.  Participants will meet in front of St. Francis Manor at 1:00 PM for a one-mile walk around the Seeland Park campus. The walk will conclude at the St. Francis Manor Social Center for refreshments and an entertaining skit performed by local Seeland Park talent.
St. Francis Manor & Seeland Park will join with an estimated 100,000 older adults across the country to help promote active, healthy lifestyles through physical fitness, good nutrition and preventive care. According to Fitness Specialist Julie Klein, "This event is a wonderful opportunity for seniors to make, renew, and revitalize their commitment to live healthier lives through better health and fitness and correlates very well with the 2017 theme:  With Movement….There's Improvement!"
For more information, please visit www.stfrancismanor.com or call 641-236-7592.