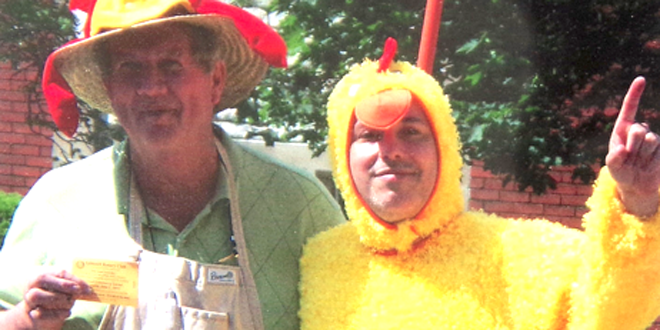 New Venue for 2017 Annual Rotary Club Chicken Barbecue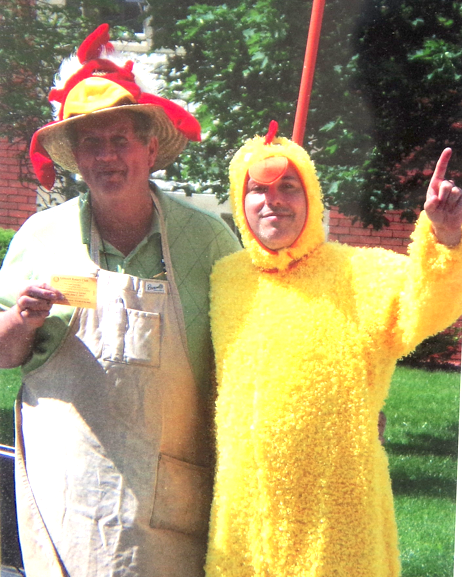 The annual Grinnell Rotary Club Chicken Barbecue will be held Thurs., June 8 at a new venue – the Drake Community Library parking lot with distribution at the United Methodist Church entrance on Park St.
The times remain the same: 11:30 a.m. to 1:00 p.m. and from 3:00 to 6:30 p.m.
This new venue is due to the construction still going on at the Community Center which has been the traditional staging area for this much-anticipated event.
Cost is $10 for a meal consisting of one-half charcoal-grilled BBQ chicken, potato salad, coleslaw, pudding, and lemonade. Pre-paid orders of ten meals or more can be delivered.
Tickets are available from any Rotarian as well as Brown Shoe Fit Store, Grinnell State Bank, Total Choice Shipping and Printing, Medicap Pharmacy and West Side Dining.
Sponsorships are available at three levels: Supreme Grill Master level of $250 which entitles the sponsor to acknowledgement in a brochure, banner, and other promotions, and ten free tickets; Grill Master level of $100, which has same promotional benefits and two free tickets; and Griller at $50, for inclusion in banner and brochure.
For more information about sponsorships or pre-paid orders, contact Effie Hall, chicken barbecue coordinator and Rotary Club president-elect, at 236-8296.
The annual chicken barbecue had been a fixture of Grinnell's summer festivities.  Introduced in the mid-50s, it used to be served by Rotarians. The take-out feature first tried in 1985 has eventually become the chosen distribution method.
Proceeds from this fundraiser will be used to fund Rotary's community projects.  This year these projects have included Kites Over Grinnell, support of the Station Clubhouse, winter coats for the needy, donation to the Bailey Park Skate and BMX Project and Central Park modernization, scholarships for high school graduating seniors, sponsorship of a Rotary Youth Exchange Student, and hosting of the Rotary Youth Leadership Awards for Iowa high school students.  Rotary likewise supports numerous projects by other organizations such as Take Away Hunger, United Way, Grinnell Police Shop-with-a-Cop, Big Brothers Big Sisters Bowl for Kids, the Salvation Army, and the Red Cross blood drive, among others.
The Grinnell Rotary Club was founded in 1938 and is one of 3500 clubs worldwide. It meets regularly on Tuesdays at 6 p.m. at West Side Dining.