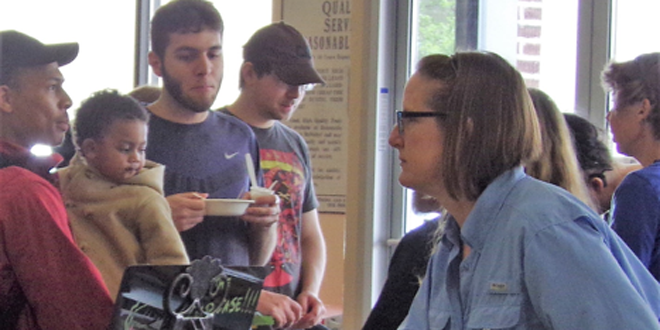 First Food Fair Features Local Farm-raised Fare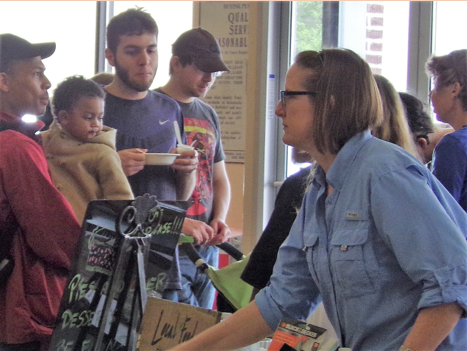 by Michael McAllister
The northwest corner of McNally's Foods at 1021 Main Street in Grinnell was given over to local food producers on the afternoon of Saturday, April 15, as a new tradition was served up:  the first annual Local Foods Fair.
According to Grinnell's Chamber of Commerce Community Calendar, Local Food Connection, a non-profit agency seeking to promote the availability of products from sustainable food operations, organized the event.
Imagine Grinnell and Grinnell Farmers Market were also involved with sponsorship and promoted the event as an opportunity for the community to explore CSA, Community Supported Agriculture.
In addition to providing enticing food samples, vendors answered attendees' questions through conversation and literature.
Local Foods Connection (above) was the first exhibitor that the visitor was likely to encounter.  This agency, based in Iowa City and established in 1999, refers to itself as "a group of community activists who donate fresh produce to low-income families."
Those families become involved with Local Foods Connection through a structured program of education and can receive credit to purchase food from a farmers market or directly from a participating farm.  "We purchase goods from farmers who use sustainable farming practices, such as growing vegetables without chemical pesticides and raising animals in a humane environment," the organization's website states, adding, "Clean, nutritious, locally-produced food is a fundamental human right."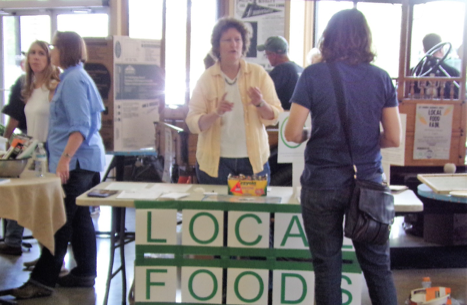 Another connection to planet-friendly, palate-friendly nutrition comes from Grinnell Local Food Source, an organization devoted to putting people in touch with farm-fresh products.  Joining costs the consumer nothing, stated Harriett Dickey-Chasins (speaking above), and allows the consumer access to a list of foods via a website.  Products include meat, poultry, eggs, vegetables, grains, baked goods, and some prepared foods.  Customers can place an order on the site, and items will be available for pickup on the third Thursday of the month, between 4:30 p.m. and 6:00 p.m., at the Grinnell Presbyterian Church at 1025 5th Avenue.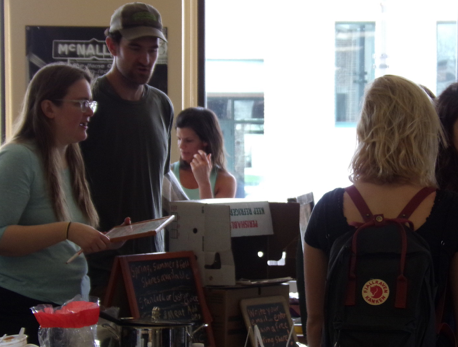 Compass Plant CSA and Middle Way Farms (above) greeted visitors at the north end of the fair.  These operations—along with Grinnell Heritage Farm toward the opposite end—come under the acronym CSA, which stands for Community Supported Agriculture.  The CSA concept is simple:  A customer buys a share of a farm's produce through an up-front or a monthly payment and receives a specific portion of that farm's produce during the season.  Costs and options vary widely and can be tailored to a customer's specific needs, and at times operations partner with one another to offer even more options to the public.
Payments help farmers meet planting and growing expenses, and consumers receive high-quality foods grown and raised under environmentally sound practices.
Compass Plant CSA, operated by Ann Brau and Lisle Dunham at Penrose and 16th Avenue, is Grinnell's oldest CSA.  "We provide chickens, eggs, turkeys and Guinea Hogs for our meat share customers," the company's brochure states, in addition to vegetables, eggs, and breads.  By drawing upon specialty products from similar operations, Compass Plant can broaden its offerings, and nine share options with additional choices are listed on the farm's application brochure.
Middle Way Farms dates to 2012 when Jordan Schiebel, a native of Connecticut and a Grinnell College Graduate, channeled an interest in organic farming, an association with Grinnell Heritage Farm, and a connection with Grin City Collective into a patch of ground dedicated to "growing better, not bigger."  Middle Way is working toward organic certification this year.  "We rely on biological processes that are renewable, build soil, and enhance ecological health," the company's flyer reports.  Several share options are offered, along with a variety of pick-up and delivery sites.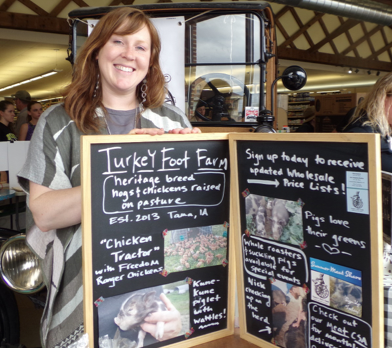 "Pigs love their greens," states a display from Turkey Foot Farm, Tama (above), and those four words reflect the kind of concern for animals, for plants, and for the land that community farming promotes.  Turkey Foot's humane farming practices have earned a grant through the Fund-a-Farmer Project of the Food Animal Concerns Trust (FACT).  Turkey Foot, owned by Nick Koster and Jennifer Vazqauez-Koster, specializes in pasture-raised pork and heritage chickens and turkeys.  The operation follows FACT's philosophy that, as its brochure states, "all farm animals should be granted adequate space, access to the outdoors, clean water and air, the opportunity to express their natural behaviors, and safe feed."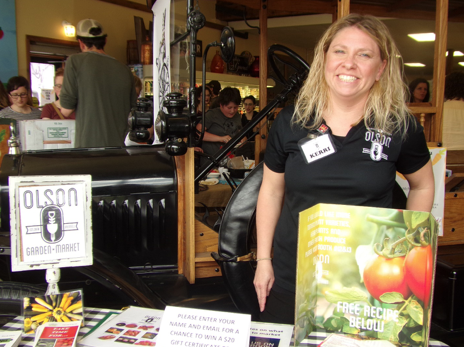 April and May mean asparagus, red rhubarb, radishes, green onions, and tomatoes and herb plants.  June brings kohlrabi, zucchini, summer squash, and kale—all part of a month-by-month listing of products available from Olson Garden Market (above), 5809 Highway T 38N, Grinnell.  Brian and Kerri Olson offer a variety of "patch to pan" veggies well into October.  Like most of the vendors at the food fair, Olson Garden Market will be prominent when Grinnell's Farmers Market opens May 11.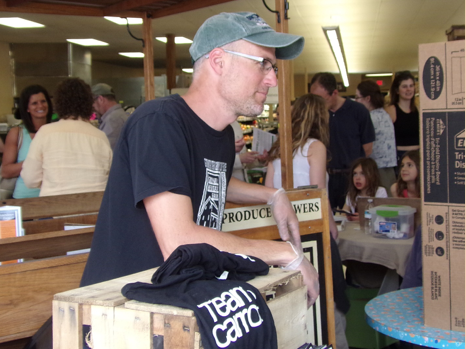 On 80 acres owned the family for more than 150 years, Andrew and Melissa Dunham operate Grinnell Heritage Farm (above) northeast of Grinnell.  The operation is certified organic by the United States Department of Agriculture.  Grinnell Heritage Farm markets its vegetables directly to customers through various CSA share options and at farmers markets and grocery stores in Des Moines, Cedar Rapids, and Iowa City.  Look for Team Carrot!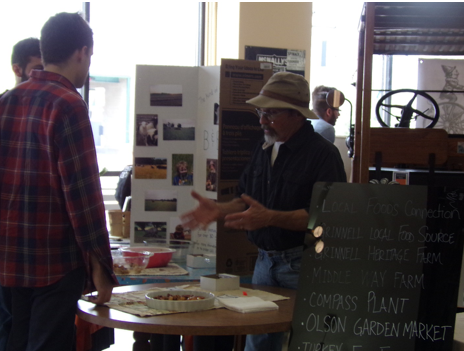 B and B Farms (above) set up shop at the south end of the food fair area with samples of beef, pork, lamb, and chicken:  "The kind of meat you like to eat."  Operators Suzanne Castello and Robert "Barney" Bahrenfuse received the Center for Rural Affairs Citizenship Award in 2011 for their advocacy for public policy to improve affordable health care for rural communities.  The award symbolizes the concern for health and welfare that is at the heart of the farming operations active at McNally's on April 15.
While Saturday's event may not be repeated for a year, no one need wait that long to enjoy the foods produced by participating vendors.  Many of the operations supply products to McNally's through the year, and many will be on hand at Grinnell's Farmers Market and at similar events this spring and summer.  A quick Google search retrieves information about the farms, their people, their schedules, and their products.
In a state with no shortage of corporate agriculture enterprises, it is encouraging to realize that there is still a place for small, sustainable farms, for plants grown organically, for animals grazing in pastures, and for farmers who strive to treat the land in such a way that it will benefit their children, their grandchildren, and generations beyond.