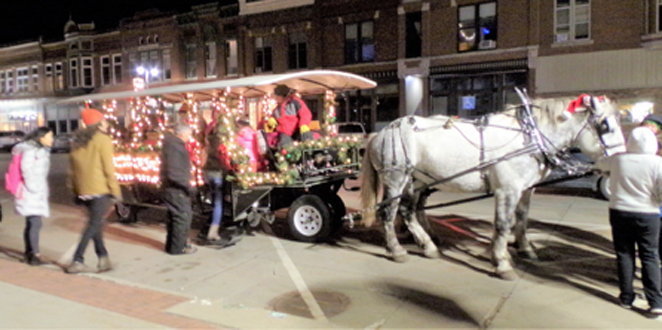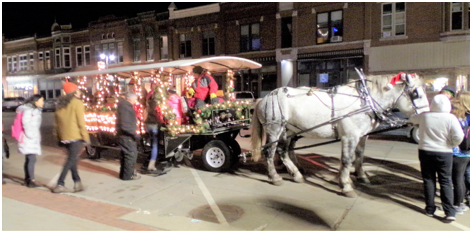 Christmas 2016:  Grinnell Gears Up
By Michael McAllister
As though to herald the holiday season, northwest winds howled and temperatures plunged in Grinnell on the afternoon of Friday, November 18.  While a gentle nudge from the blissful autumn days we had been enjoying would have been appropriate as mood setting for the Jingle Bell Holiday, there is such a thing as overkill.
The temperature on the clock on Grinnell State Bank registered 37 degrees at 6:00 p.m.  Don't even ask about the wind chill.
No doubt residents in many a local household scrambled to retrieve the gloves, scarves, stocking caps, and winter coats that had been stashed away last April.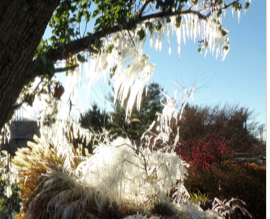 Nor were people alone in being caught off guard by the sudden weather shift.  The sprinkler system just west of the railway building across from the southeast corner of Central Park created its own impromptu ice sculpture.
On the other hand, anyone seeking another kind of warmth had to do no more than blend with the crowd as parents, children, toddlers, grandparents, uncles, aunts, cousins, musicians, merchants, customers, teens, tweens, and twins were out in force—all to welcome the holidays to Grinnell.
There were horses, too.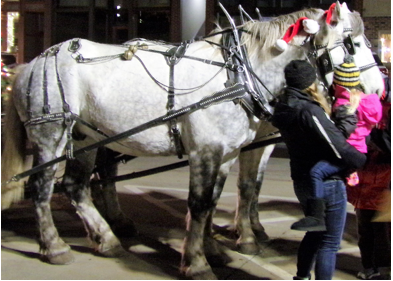 The carriage ride was a popular attraction, originating at the corner of Fourth and Broad on the northwest corner of Central Park, and the horses seemed to take both the attention they received and the job required of them in proper stride.  In short, there was plenty of horsepower to pull the brightly lighted carriage.  (Reindeer—you may have some competition!)
Back on the sidewalk, people could sample pleasantries, refreshments, and outright bargains from approximately 21 participants—activities involving music, crafts, shopping specials, reading events, and (thankfully) plenty of hot cocoa.

From a purely business standpoint, this year's Jingle Bell Holiday was surely a success.  Dozens of people could be spotted in stores up and down Main between Fourth and Fifth and elsewhere.  Retailers who contributed time, effort, and materials to the event included Memories Maid, Bill's Jewelry, Giggles and Bows, Beckman Gallery, Anna Kayte's Boutique and Awards Unlimited, Pioneer Bookshop, and Brown's Shoe Fit.
From locations just off Main, retailers Bikes to You, Bates Flowers by D'Zyne, Gamers, Loralei's Giftshoppe, Ballyhoo, and Stepping Stones Christian Bookstore contributed to the festivities.
Still other concerns such as Doyle and DeVoe Realty, the Knights of Columbus, Michelle's Dance Academy, Railway Express, Crisis Intervention Services, and Paragon Church joined in, and—farmers being hearty folks—a Winter Farmers Market was scheduled at the Masonic Temple.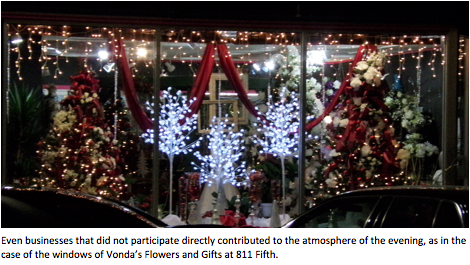 Even businesses that did not participate directly contributed to the atmosphere of the evening, as in the case of the windows of Vonda's Flowers and Gifts at 811 Fifth.
As a starting point, an interlude, or a conclusion, the Too Many String Band and Pink Neighbor entertained revolving audiences at the Arts Center.
The String Band, according to an April 2015 article in The Scarlet & Black, is focused "more towards having a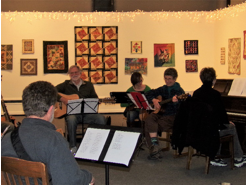 good time rather than striving for perfection."  But there are different ways to measure perfection, and as an opportunity for the public to reconnect with favorite Christmas songs, nothing of any importance was lacking in the band's performance.
Pink Neighbor is Erik Jarvis and Katie In, a Grinnell couple well known in the area. The duo's melodic, sensitive music blends folk and pop and merges easily with a variety of styles, as it did earlier in the month in a concert with the Turlich Ur Pipe Band and as it did during the Jingle Bell event with the Too Many String Band.
Brown's Shoe Fit hosted the Grinnell Community Band, which added brass and volume to the general music pastiche with spirited renditions of traditional favorites.  While some foot measuring was in progress, so was a good deal of foot tapping.  Only the scroogiest of Scrooges could have failed to appreciate the music.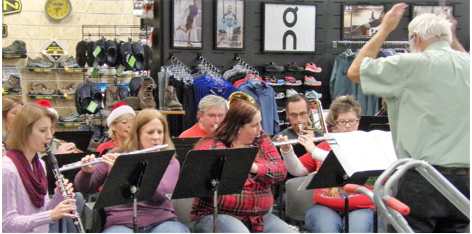 In short, a season associated with peace and goodwill received an appropriate welcome in Grinnell Friday night—this despite a change in the weather that was not conducive, at least for some, to good spirits.  It is a tribute to the town and to all involved—businesses, associations, customers, and onlookers—that such an event can be so varied, so all-encompassing, and so enthusiastically received.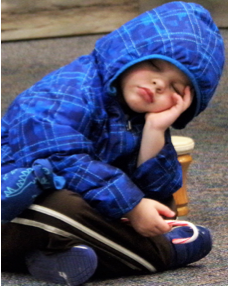 Nonetheless, Christmas or no Christmas, candy cane or no candy cane, naptime cannot be ignored.