Homepage Slider
American Innovations Celebrate AmeriCorps Achievements: Root beer, Dixieland, and learning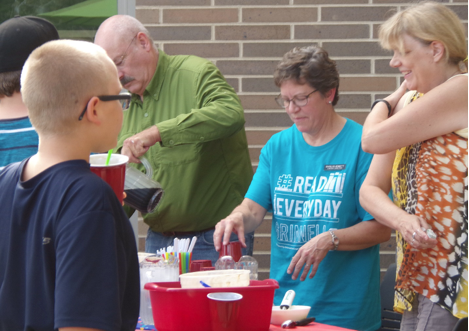 American Innovations Celebrate AmeriCorps Achievements: Root beer, Dixieland, and learning
By Michael McAllister
"The library really knocked it out of the park this year."  Those were the words of Monica Chavez-Silva, Assistant Vice President for Community Enhancement and Engagement at Grinnell College Thursday evening, September 8, on the terrace of Grinnell's Drake Community Library.  The occasion was a reception designed to recognize the library for initiating and overseeing reading programs through a 2015 AmeriCorps grant and to award the library a travelling trophy for the efforts of its staff and volunteers.
Root beer floats added flavor to the event, and the Prairie Jewel Dixieland Band contributed lively renditions of old-time favorites.  Generations mingled and, considering the prairie grass that borders the library terrace on the south, centuries blended—all of which reflected a continuum of innovation and involvement capturing the spirit of the AmeriCorps program.
On January 20, 1961, newly inaugurated President John F. Kennedy famously urged Americans to ask what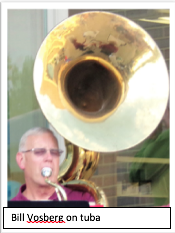 they could do for their country.  Out of that statement, the Peace Corps evolved, and as a corollary to the Peace Corps, VISTA—Volunteers in Service to America—was born.
Since VISTA's launch in 1965, just about every presidential administration has affixed its stamp of influence to the volunteer program, with AmeriCorps (originally AmeriCorps VISTA) emerging with President Clinton in 1993.  If we fast-forward to 2016, and if we focus the lens on Grinnell, we find the present reception acknowledging the efforts of dozens of committed individual and agencies.
Earlier this summer, the Grinnell Education Partnership was awarded the "Leave It Better Than You Found It" award from the Claude W. and Dolly Ahrens Foundation.  In addition to a $5,000 grant from the foundation, the Grinnell Education Partnership receives a travelling trophy to recognize participating entities.
"It seems only fitting that [the award] should go first to the Drake Community Library this year," said Chavez-Silva.  "You should be aware they have gone above and beyond."  Drake Library's Karen Neal supervised this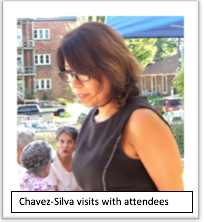 summer's efforts, which involved some 21 volunteers from area high schools and Grinnell College.
The AmeriCorps program in Grinnell stems from the Grinnell Education Partnership, formed in 2012, dedicated to the promotion of grade-level reading.  A 2015 grant generated this summer's reading programs and other efforts, and Grinnell College recently announced funding for a second year.  "Similar to the first year, the grant of $141,474 will provide for up to eight AmeriCorps service members to convene community-based partnerships and another 38 AmeriCorps service members to help with summer learning programs," states a Grinnell College press release from July of 2016.
Local financial support has also come from Grinnell Mutual Reinsurance, the Claude W. and Dolly Ahrens Foundation, and the Greater Poweshiek Community Foundation.  Specific programs set in motion during the first year of the grant included Read Everyday, focusing on pre-kindergarten through third grade readers; attendance support for summer school participants; transportation to Grinnell High School's summer lunches; wellness initiatives; and the establishment of a volunteer infrastructure for future projects.
Jessica Kite, literacy specialist, is an AmeriCorps participant.  She signed on to the local AmeriCorps program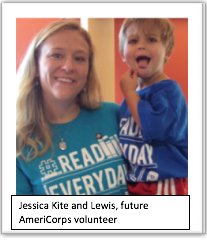 in January of 2016 and served as School Readiness Task Force Coordinator.  She cites a three-day kindergarten summer camp at Fairview Elementary as one example of a successful endeavor, a project designed to acquaint students with their classmates and their facilities and to generally "get their brains back in gear" so that the first day of school would be a smooth transition.  The importance of that transition has long been emphasized by researchers.  One organization, for example, the United Way, asserts, "The academic success of children in later years depends heavily upon their kindergarten readiness."
The deadline for applications for 2016-17 AmeriCorps programs is soon—September 15.  Anyone interested should contact the Greater Poweshiek Community Foundation at www.greaterpcf.org, 641.236.5518, or the Office of Community Enhancement and Engagement at Grinnell College, www.grinnell.edu, 641.269.4000.
According to the website maintained by the Corporation for National and Community Service, AmeriCorps "engages more than 75,000 Americans in intensive service each year at nonprofits, schools, public agencies, and community and faith-based groups across the country."
Some of those 75,000 Americans do their work in Grinnell, and Grinnell is
the better for it.