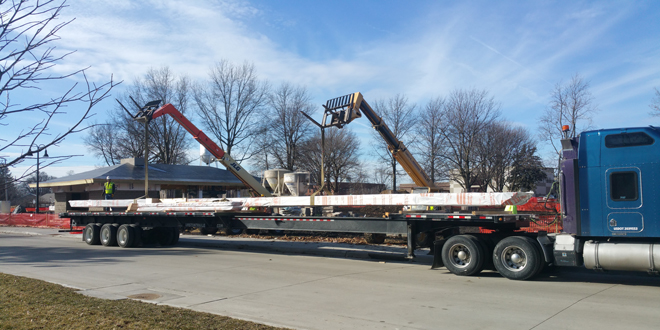 5 Ton Curved Beam For Central Park Performance Stage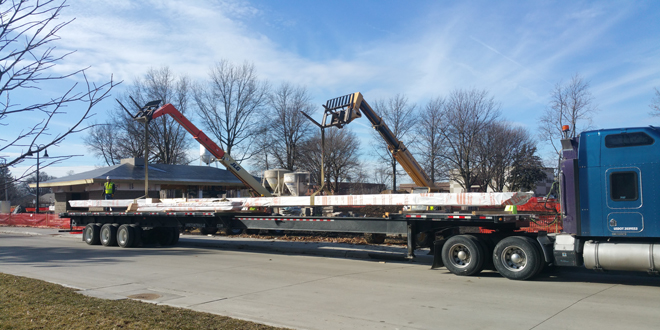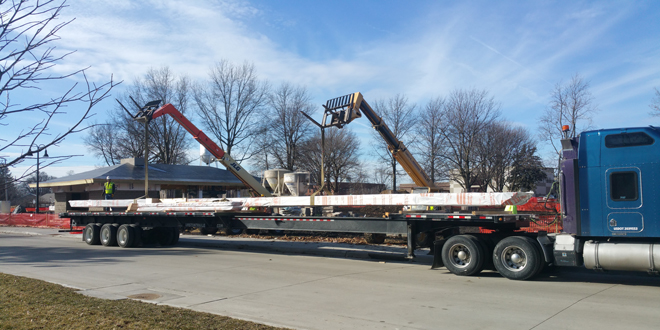 A five ton, 80 feet long structural glued laminated timber curved beam arrived at Grinnell today. It was manufactured by Sentinel Structures, Inc. of Peshtigo, Wisconsin. This big beam along with others will be used in the roof construction of the new performance stage at Central Park.
A stretch flatbed trailer was required to haul the 80 feet long curved beam plus others the 430 miles from Wisconsin to Grinnell. Xtreme Trucking of Abrams, Wisconsin handled the wide and long load for the Peshtigo manufacturing concern.
The Southern Pine engineered timber beams are being installed by Bushong Construction of Montezuma. The stage and nearby restroom and picnic pavilion were designed by RDG Planning of Des Moines.
Sentinel Structures, Inc. manufactures structural glued laminated timber beams, arches, trusses, bridge components, highway noise barriers, ship timbers and many other engineered timber products. It operates in Peshtigo, Wisconsin at site of the original timber laminating plant in North America, established in 1934.