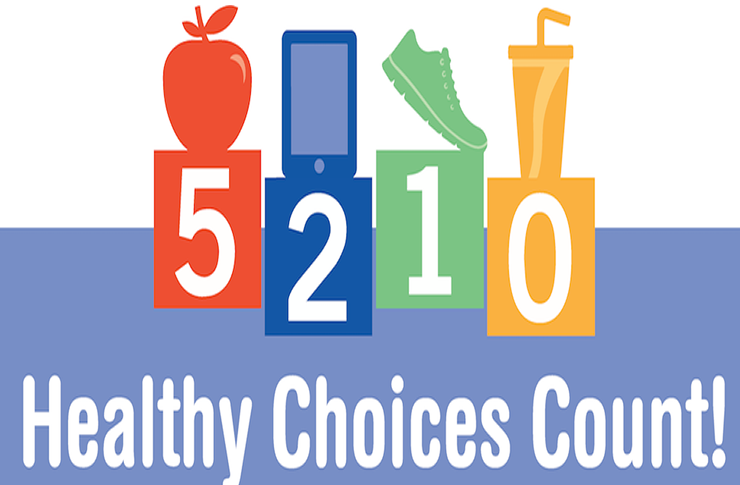 In July of this year, the Iowa Department of Public Health announced an expansion of their Iowa
5-2-1-0 Healthy Choices Count! campaign with a grant of $30,000 awarded to the Grinnell community. UnityPoint Health® – Grinnell Regional Public Health proudly served as the lead local agency in Grinnell, hosting multiple grant steering committee meetings to create more environments to support healthy choices in Grinnell.
5-2-1-0 Healthy Choices Count! is a health-focused movement. It started in Iowa in 2017 and is centered around four key numbers that individuals can easily strive for each day:
Eat 5 or more servings of fruits and vegetables.
Have 2 hours or less of screen time.
Have 1 hour or more of physical activity.
Drink 0 sugar-sweetened beverages.
"We are happy to be part of the work happening in Grinnell to bring healthy living into our schools, childcare programs, health care practices and workplaces," says Shauna Callaway, RN, BSN, Public Health Director and steering committee member. "Our mission at UnityPoint Health – Grinnell is to improve the health of the people and communities we serve, and this aligns with the 5-2-1-0 Healthy Choices Count! campaign. It's great to partner with others in the Grinnell community to reach children and adults with healthy choices where they live, learn, work and play."
The grant steering committee consisted of 15 Grinnell community members representing a variety of groups and organizations as well as a Region 6 Resource Partners member to help administer the grant. The steering committee selected 18 action plans that will receive grant funding in Grinnell. They will be implemented starting in January 2020 with a completion deadline of June 30, 2020.
"It's encouraging to see so many different groups working to incorporate healthy choices into their daily routines in Grinnell," says Rachael Kinnick, Grinnell Area Chamber of Commerce President and CEO and steering committee member. "We're thankful so many community groups will benefit from the grant dollars and are eager to see them put to work in Grinnell in 2020."
The grant funding in Grinnell will extend to projects reaching sectors designated as community, daycare and preschool, before and after school programming, health care and school. From healthy food access and education to sensory paths and traveling playground equipment, the 5-2-1-0 Healthy Choices Count! campaign will appear in a variety of ways in Grinnell in 2020.
"We're really excited to bring the Imagination Playground equipment to the Grinnell youth and community," says Jordan Allsup, City of Grinnell Parks and Recreation Director and steering committee member. "The inclusive playground equipment is portable with the intent of specifically filling the winter months when it's harder to get kids outside and active. The equipment can be set up in various indoor or outdoor locations and encourages imagination as well as motor skills to get people moving. We're appreciative of the grant dollars enabling this purchase for our community."
5-2-1-0 Healthy Choices Count! in Grinnell – Action Plan Highlights
Below are condensed summaries from the Grinnell implementation plans; for additional information, please reach out to the community sectors directly.
Plant edible landscapes to increase fruit access.
Complete a walkability and bikeability assessment to update information gathered in 2013.
Increase water access by installing water bottle filling station at the Ahrens Park Foundation's Grinnell Athletic and Recreation Center.
Increase physical activity with portable Imagination Playground equipment for utilization in various community areas.
Grinnell Community Early Learning Center
Create a children's book library of fitness and nutrition education.
Purchase gross motor equipment for "Move for Thought" implementation.
Provide refillable water bottles for each child.
Educate children to be life-long growers through hands-on demonstration activities.
Promote healthy cooking with recipes and cooking practices.
Teach children about food donation and collection for less fortunate individuals.
Grinnell-Newburg Community School District
Install sensory paths at the three elementary schools.
Provide parents with 5-2-1-0 education and activity ideas.
Create time for physical activity and movement breaks each day.
Encourage students to bring refillable water bottles to school and utilize the filling stations.
Conduct a monthly taste test of one fresh fruit and fresh vegetable along with nutrition education.
Provide education to parents/families/community members on limited screen time and non-electronic essential skill development for children.
ISU/Poweshiek County Extension
Purchase Blender Bike and supplies to utilize at community events.
Provide two "Produce Basics" workshops as education on fresh produce cleaning, preparation, storage and recipes.
Offer healthy snacks and healthy eating programming at Grinnell area summer camps.
Purchase equipment to increase physical activity for the after school program.
Purchase materials for multi-generational literacy and physical activities with the Mayflower Retirement Community.
Sponsor 75 tickets for low income families with young children to attend Grinnell Heritage Farm Hapizzaness events.
Sponsor Mini Farmer's Market at Davis Elementary.
Offer crock pot cooking demonstration and education in partnership with Grinnell-Newburg High School.
Provide 5-2-1-0 health care interviewing strategy education to medical staff.
###
About the Healthiest State Initiative
The Healthiest State Initiative is a nonpartisan, nonprofit organization driven by the goal to make Iowa the healthiest state in the nation. By engaging worksites, communities, schools, retail food, organizations, institutions and individuals, we can inspire Iowans and their communities to improve their health and happiness, and ultimately achieve our goal. For more information, visit IowaHealthiestState.com.