Homepage Slider
Grinnell Games weekend to feature new UV Splash nighttime run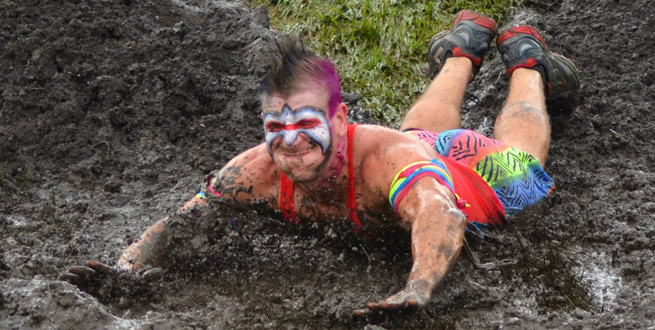 Grinnell Games weekend to feature new UV Splash nighttime run
GRINNELL– Online registration is open for the Grinnell Games, which will take place June 11 and 12. Those wishing to participate in events may sign up at www.grinnellgames.com. The Grinnell Games, Iowa's Family Sports Festival, is presented by Grinnell State Bank.
Saturday, June 11, will be filled with an action-packed day of events. The half marathon and a 5K road race through Grinnell will begin downtown at 8 a.m. Following those races, there will be inflatables and kid activities beginning at 10 a.m. and the Lil' Warrior Run, a free event for ages 5 through 12, will begin at 10:30 a.m.
Several tournaments will take place in the afternoon. Three on three basketball will begin at 11 a.m. and sand volleyball and bags tournaments will both begin at 1 p.m. The Amazing Chase, a scavenger hunt similar to the hit television show the Amazing Race, will begin at 4 p.m. and will send participants around the community in search of clues.
Saturday activities will conclude with a new Grinnell Games event, the UV Splash Color Dash 5k run/bike event. The night's brightest 5K will begin at 9:30 p.m. in front of the Joe Rosenfield Center at Grinnell College. The UV Splash is a family-friendly, untimed 5K, for all shapes, sizes, ages and abilities. Start with a white T-shirt and end the run covered in colorful powder.
The Warrior Run, a 5K mud and obstacle run, will cap off the weekend of festivities on Sunday, June 12, at 10 a.m. at Ahrens Park.
Registrations are being accepted for all Grinnell Games events. The registration deadline for teams entering volleyball and basketball is Sunday, June 5, to allow time for brackets to be finalized. Participants may sign up for all other events up until they start. Registration fees will increase June 11, so organizers encourage participants to sign up at www.grinnellgames.com in advance.
Grinnell Games is a two-day weekend of events designed for all ages and athletic abilities, and draws participants from around Iowa and surrounding states. Grinnell is located in Central Iowa along Interstate 80, equidistant between Des Moines and Iowa City. It's the perfect day trip or weekend getaway for you and your active family.
Volunteers are still needed for the June event. Volunteer shifts and duties are posted at www.grinnellgames.com/volunteers for those interested in signing up.
Grinnell Games is sponsored by Grinnell State Bank, Ahrens Park Foundation, Grinnell Regional Medical Center, Grinnell Mutual, Grinnell College, HyVee, and Grinnell Sports Authority.
For more information about Grinnell Games and to sign up for an event, visit www.grinnellgames.com.