By Abby Reding, Freelance Correspondent;
For some individuals, road trips are boring, just a way to get frompoint A to point B. For Grinnell professor, and long time coach, Will Freeman, however, it is far more. For him, lengthy travels are about appreciating the different places, meeting new people, and trying new things. To date, he has written, or co-written, six books. His most recent, The Quest, is about previous travels across the country on a motorcycle. Freeman spent his childhood reading travel and road trip books by noteworthy authors such as Charles Lindbergh, Mark Twain, Robert Pirsig, John Steinbeck, and William Least Heat-Moon. Since he was young enough to read about different American journeys, he's been inspired to go on his own adventures and describe them in writing.
Freeman's next challenging adventure will be the basis for his upcoming book. His love for adventure and discovery has led him to planning a truly breathtaking journey. In May 2018, Freeman will embark on an extensive road trip to visit all 48 Continental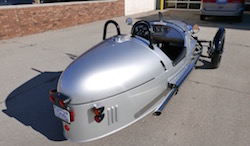 United States while traveling in a three wheeled vehicle. However, it is the way he will be going about this trip which is unique. He will be driving a 2017 Morgan Three Wheeler named "Spirit of Grinnell". Not only will Freeman visit all 48 states in one trip, and visit each one in a meaningful way with the general goal of writing about the places he sees and people he meets, he put together a list of criteria that must be followed for the entire 48 state trip. The criteria includes: two lane highways only, unusual places, Native American sites, National Parks, historical sites, landmarks, and
spiritual places. He has also made the educated decision to avoid national chain restaurants and hotels. When asked about this, he responds, "When I was a kid and we did family road trips, there were few, if any, chain motels and restaurants along the bi-ways of America. Today, these chains are at every exit. They are examples of who we have become, just more impersonal examples of providing a bed or a quick meal so we can get from point A to point B as fast as possible.  The journey along the way has been lost."  He continued, "The advent of the Interstate road system has killed the road trip as it used to be.  I feel a connection with the mom and pop motor lodges and restaurants along our highways. Giving my money to real people, and not a conglomerate, resonates with me." This statement alone expresses who Will Freeman is as a person.
With many long road trips in his past, the upcoming journey will be his longest ever. It is evident that such a substantial road trip will take incredibly intricate planning, as well as resources, which leads to another interesting component of his story. Freeman co-taught (with Dr. Kesho Scott) an American Studies course at Grinnell College in Fall of 2017. Titled "American Journeys", the final portion of the course involved having those 15 students, following Freeman's criteria, determine potential points of interest to incorporate into the route. After defining several hundred potential key points, a computer science major was given the data to create an algorithm in order to figure out the most efficient route for Freeman to follow. A second student is creating the website and blog for this adventure. That student, Priyank Shah, says, "My initial reaction, when I read about the trip, was that this is a most 'Grinnell' thing to do. I was shocked as to how a 48-state road trip in a three wheeler could even be possible. However, this is what Grinnellians do – surpass all expectations." This trip is a shining example of faculty and student collaboration, something Grinnell is known for.
When asked why he chose to include the students on such an elaborate project, Freeman responded, "In the American Journeys course, we had been talking about American journeys and reading books from some of the authors and explorers that inspired me when I was growing up. We also talked about big-picture American journeys and movements such as the underground railroad and the Mormon trail. I wanted my students to actually be involved in helping to create an American journey".
Speaking of the authors and explorers who have motivated him to embark on his own adventures, he has chosen to honor them in a special way. Their names will all be on the side of the "Spirit of Grinnell":  Robert Pirsig, Mark Twain, Least Heat Moon, Charles Lindbergh, Jack Kerouac, and John Steinbeck. This is just one way his Morgan 3-wheeler, hand-built by the Morgan Motor Company of Malvern, England, will be remembered. Will Freeman's journey will also be the longest trip ever made in a Morgan 3-wheeler, a projected 18,000 miles  (the current record is 3500 miles). Freeman describes the Morgan as part World War I open cockpit airplane, part 1950's mahogany speedboat, and part vintage motorcycle. "It's the perfect tool to provoke conversation. I want to know about the journeys that the people I meet along the way have had in their lives.", Freeman explains, "You have a constant smile on your face when driving it, and so does everyone who sees it."
Freeman will depart from Grinnell College's commencement day, May 21st, and hopes to arrive back in Grinnell around August 15th. The student designing his website will also be the ground zero person in Grinnell during the trip, updating the website daily and also reaching out to media and alumni ahead of Freeman's location along the route.
For more information on Freeman's upcoming trip contact Freeman at  freemanw@grinnell.edu. Once the website is up and running it will be shared with Our Grinnell.
Additional and complete "Spirit of Grinnell" road trip updates and information may be seen at Will's website www.m3wroadtrip.com.