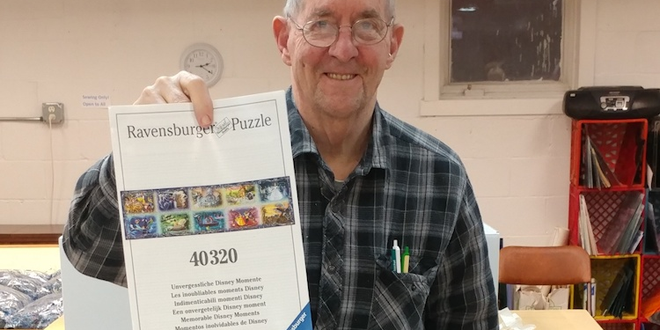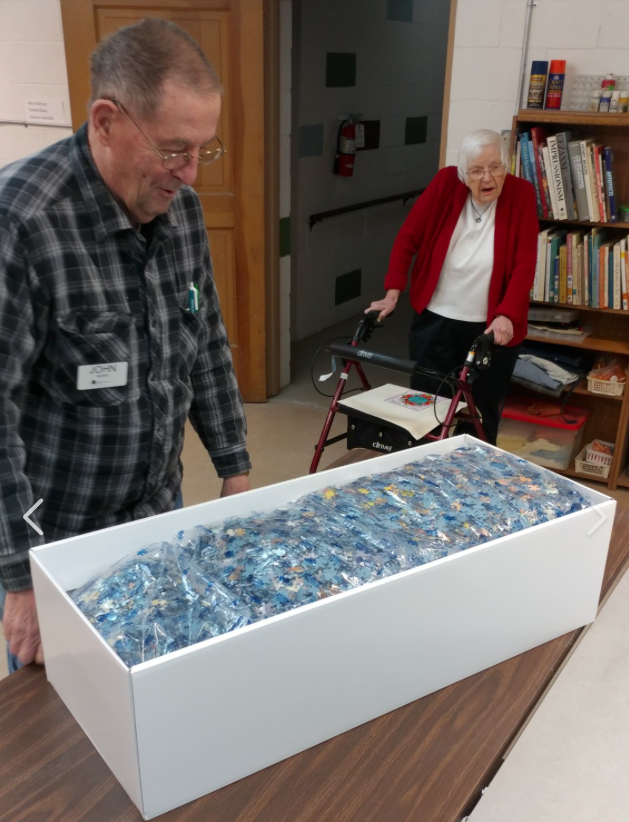 40,000 Piece Puzzle…Sure. Sure!
He's doing it again! After recently completing a 9,000-piece jigsaw puzzle, Mayflower Community (Grinnell, Iowa) resident, John Noer, just acquired a 40,000-piece puzzle. Having nothing to do for the next couple of years, he may be able to come up with the 22-foot long creation. Standing six feet tall, the puzzle depicts vivid Disney® characters and scenes.
Buoyed by his success on the 9,000er, John searched for his next challenge and found it at Ravensburger, the 150-year old German-based publishing and games giant.
Shipped by Amazon® in a three by one-foot box, the puzzle is actually 40,320 pieces. It is composed of 10 different scenes, which will then interlink. Each of the sub-puzzle pieces are contained in separate plastic bags. Frankly, all the bags look the same with a beautiful blue tint.
John will work on the puzzle in Mayflower's Basement Craft Room, lower-level of the Pearson building. Two side-by-side eight-foot tables are covered with butcher's paper for the eventual pasting of the finished sub-puzzles.
When asked about his target completion date, John said, "Oh. Maybe three years."  After a little coaxing from his wife Dorothy, John agreed to shoot for next Christmas.  The shots below show the delivery and opening of the new puzzle.