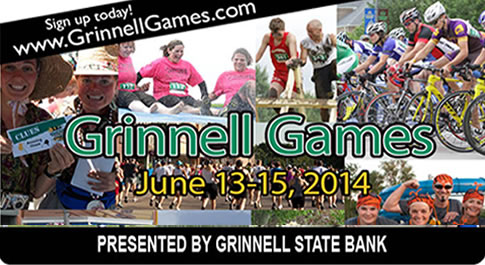 People of all ages and athletic abilities are invited to participate in the 2014 Grinnell Games, presented by Grinnell State Bank. Grinnell Games, Iowa's family sports festival, is June 13-15. Events include:
Friday, June 13:
7 p.m.  –  10K Twilight Trail Run at Rock Creek State Park
Saturday, June 14:
8 a.m.  –  5K & Half Marathon beginning and ending downtown
1 p.m.  –  The Amazing Chase throughout downtown
4 p.m.  –  Twilight Bike Criterium (location to be determined)
Sunday, June 15:
10 a.m.  –  Warrior Run at Ahrens Park
Organizers are finalizing a few new events and activities and plan to announce additions to the schedule later in March.
"We are always exploring new events to add each year, and are excited to announce a couple new ones later this month," said Emily Counts, tourism director at the Grinnell Area Chamber of Commerce, which organizes the event. "More than one thousand people from sixteen states participated in last year's event, and we look forward to growing that number this year."
There is a new incentive for participating in multiple events this year. Those entering multiple events during the weekend will receive Grinnell Games Golf, which is a gift certificate valid at local businesses during the event weekend. Those registered for two events will receive $10 Grinnell Games Golf, those registered for three events will receive $20 Grinnell Games Gold and those registered for four or more events will receive $30 Grinnell Games Gold.
"Last year's Grinnell Games was filled with inspiring stories of people running their first 5k, families flying in from across the country to participate together and parents running races alongside their kids," Counts said. "A group of people working toward completing a race in each state by the time they turn 50 even chose to run their Iowa race at Grinnell Games," Counts said
The Company Challenge is part of the event again this year, challenging companies to complete to form the largest Grinnell Games team. Team members may participate or volunteer for any event to be counted toward the team's participation. The winning team receives a traveling trophy and will be announced following the Warrior Run. The 2013 Company Challenge winner was Anytime Fitness.