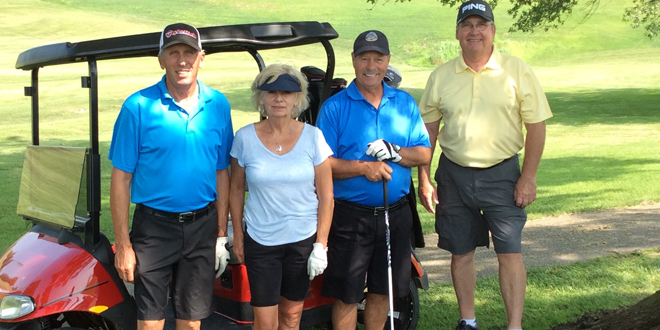 Golfers from around the area gathered at Oakland Acres Golf Club on Friday, July 10, for the 2015 Grinnell Regional Medical Center Golf Outing. GRMC welcomed 151 golfers on 37 teams for the annual fundraiser and friend raiser to support GRMC's Moving at the Speed of Life campaign. The sponsorships, contests, and golf registrations raised $20,398 from the one-day event with morning and afternoon tee times.
"The support from our community, business partners, and golfers surpassed our goals and we are extremely thankful for a great outing and the money raised," says Todd Linden, president and CEO. "The $20,000 plus raised will go toward the emergency department renovations. GRMC says thank you to all involved in this day. Based on the scores, we had a great day of golfing."
With this 18-hole course, par score of 69. GRMC's outing offered three flights to three teams in each flight. All winning flight teams receive a $100 in either cash or gift cards. This year's top team was Oakland Acres with John Dougery, Duane Loftin, Jo Loftin, and Dennis Potter, scoring 59. The Wes Finch Auto Plaza team also scored 59, with members Jeff Finch, Wes Finch, Hugh German, and John German. The third top flight team consisted of Dr. Nick Kuiper, Jarrod Phelps, Dr. Scott Collings, and Shane Hart. They scored nine under par with a 60.
The second flight included three teams all with a score of 65, with card back determining the order. First in the flight is the GRMC Wellness team of Cody Jensen, Holly Pettlon, Jon Pettlon, and Megan Ware. Second in the middle flight was the Associated Computer Systems team with Tony Foth, Chris Ayers, Heidi Thompson, and Eric Hodina. The final team in this flight was from Lincoln Savings Bank with Erin Black, Scott Black, Lynn Mawe, and Mike Plants.
The third flight teams all scored 68, one under par. First place went to the team of Joan Lemke, Roger Stafford, Curt Wayman, and Terri Wayman. Second place went to the Schoon Construction team with Scott Finneman, Jack Schmidt, LeRoy Schoon, and Blaine Wells. The final flight winner was the Great Western team of Scott Herbers, Dori Pearce, Jodie Ryan, and Rick Ryan.
GRMC held pin contests with prizes for men and women:
Hole 1: Straightest drive/closest to the line went to Marcia Rosendahl and Tom Mellon, each winning $50 in cash.
Hole 2: Drawing for landing on the green went to Joyce Chase who took home $200 in cash.
Hole 5: Longest putt on the green went to Mary Duke and John German, each taking home a $50 GolfUSA gift card.
Hole 7: Closest to the bedpan winners were Jodi Cheney and Scott Black, each taking home $50 in cash
Hole 12: Closest to the pin in one stroke went to Joan Lemke and Kim Pullen, taking home $50 gift Certificates to Michael's Italian Restaurant.
Hole 13: Closest to the crutch winners were Susan Springer and Mark Doll, each winning $50 in cash.
Hole 15: Closest to the pin in two strokes went to Joan Lemke and Jamey Gibson, winning $50 gift cards to HyVee in Grinnell.
Hole 17: Closest to the pin in one stroke were Jo Loftin and Duane Neff, who took home $50 in cash.
Hole 18: Longest drive in the fairway went to Jen Hawkins and Shane Hart, each winning $50 in cash.
GRMC hosted special contests off the course. For the putting contest held throughout the day, Dave Miller took home a new putter and a box of balls.
A 50/50 raffle generated $610, which was split between the winner, Colleen Klainert, and GRMC.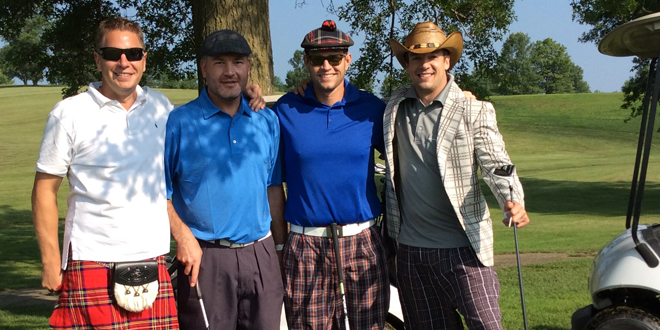 The best dressed contest went to Dr. Scott Collings in a very dapper traditional English golfer's outfit. Special mention goes to Shane Hart for his Scottish golfer's kilt. In the most fun category, Jarrod Phelps took the honor with stiff competition by the Solera Wine team in their and tiaras. Team members included Sam Cox, Sara Cox, Colleen Klainert, and Karen Richards. Special mention also goes to Dave Smith for his wild shorts.
This event depends on sponsorships from business partners and community businesses. In 2015, GRMC offered a new sponsorship level called Headliner sponsors. With a one-time donation, Grinnell College and Oakland Acres Golf Club are recognized as a sponsor for the Golf Outing, the Blue Jean Ball, the bike helmets, and for the auxiliary business membership.
The Eagle sponsors for 2015 were Associated Computer Services, Bernie Lowe & Associates, Inc., Brown's Medical Imaging, Graham Construction Company, Grinnell State Bank, Heartland Finishes, Inc., Jeld-Wen Windows and Doors, Manatt's, Inc., and Mayflower Community.
Birdie sponsors were ASI Signage Innovations, Great Western Bank, Dr. Nicholas and Stacy Kuiper, Seim Johnson, LLP, and Wes Finch Auto Plaza.
The 19th Hole sponsors were Dan and Jo Becker, Electronic Engineering, Family Dentistry, Healthcare Solutions, Jensen Optometrists, PLLC, Kevin White Design, Lincoln Savings Bank, Todd and Angela Linden, The 801 Group of Morgan Stanley, Pagliai's Pizza, Priority Plastics, Sysco, and The Straub Corporation/PAW Marketing.
Flight sponsors who made this event possible include: Brown's Shoe Fit, Dayton Meat Products, Inc., Dr. Gene Gessner, Julin Printing Company, Leila Maring, Mayflower Community, Poweshiek Publications, Schoon Construction, Inc., and University of Iowa Community Credit Union.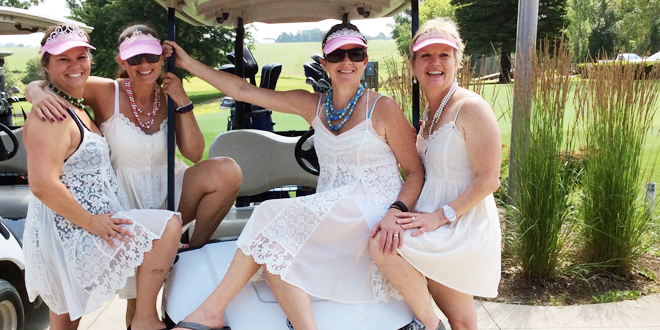 Pin sponsors were Ahrens Park Foundation, Mary and James Duke, Grinnell HyVee, GRMC, KJWW Engineering, Mayflower Community, Michael's Italian Restaurant, Mail Services, Ramsey-Weeks, Inc., and Rees Vinyl Signs.
Raffle prizes were donated by Anna Kayte's, Ballyhoo in Ink, Bill's Jewelry, Casa Margarita, CI3/ADG, Cirks Financial Services, Communications Engineering Company, Cory Hall Photography, Mary and James Duke, Dr. Gene Gessner, Golf USA, Grinnell Golf and Country Club – Donn Carlisle, GRMC, Todd and Angela Linden, Linder Tire, Mayflower Community, Meskwaki Casino, Oakland Acres Golf Club, Pagliai's Pizza, Saints Rest Coffeehouse, Solero Wine Bar, The Cheesecake Factory, The Glass Gift Box, and Van Meter, Inc.
The GRMC golf outing is a best shot, four-person team format planned by a committee of community members. They are Jeanette Budding, Dr. Scott Collings, Mary Duke, Becky Froias, Jen Hawkins, Dr. Nick Kuiper, Derrick Sears, Denise Lamphier, Darcy Swick, and Jan Veach.