Homepage Slider
2015 "Leave It Better Than You Found It" Award to Grinnell Area Arts Council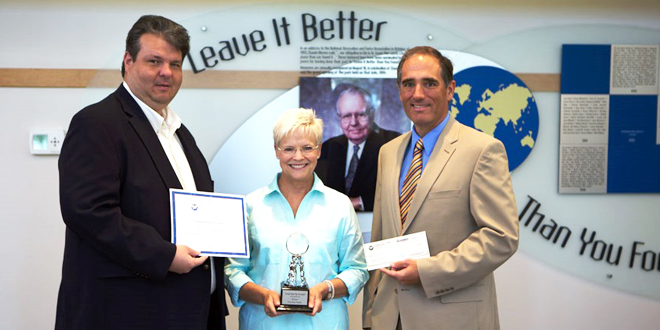 2015 "Leave It Better Than You Found It" Award to Grinnell Area Arts Council
The Grinnell Area Arts Council (GAAC) is the 2015 recipient of the "Leave It Better Than You Found It" award from the Claude W. and Dolly Ahrens Foundation (CDAF).
The arts council oversees programming and performances for the Loft Theatre, Arts Academy, Community Theatre, Community Band, Grin City Collective, Music in the Park, and Turlach Ur, plus Stewart Gallery exhibitions and administration of an annual scholarship for local high school students.
CDAF President and CEO Julie Gosselink said that GAAC was selected because of the group's community outreach to all ages. "GAAC's mission to create arts awareness through a wide range of educational programs and performance opportunities fits well with the intent and purpose of the 'Leave It Better' award. We are pleased to recognize this thriving cultural resource in our community," Gosselink said.
GAAC will receive a $5,000 grant and traveling trophy from CDAF as part of the foundation's annual recognition of area groupsmaking a difference. The traveling trophy will be displayed at GAAC's headquarters in the Grinnell Arts Center, located at 926 Broad St.
GAAC board president Lesley Wright expressed appreciation for the foundation's award. "The Arts Council is honored by the recognition of the Ahrens Foundation. It's been our privilege to partner with this community to create great cultural opportunities available to everyone.
"With the help of our expanding staff, volunteer base, and eager participants, we have been able to offer music, visual art, theatre, and arts education programming year-round," Wright said. "It's particularly exciting to see the former Stewart Library blossom as our home, giving the arts a visible downtown presence. We look forward to a fantastic year ahead."
GAAC Executive Director Christian Lutz, completing his first year in the leadership role, reflected on the community's enthusiasm and support of the arts. "This community coalesces around causes, and we respond with an amazing amount of programming for all ages.
"We want to make the arts as accessible as possible, to help all ages make connections to all forms of the arts. The reception for our programming has been great."
Lutz pointed to recent community-supported GAAC activities including the popular Music in the Park series; "Seussical the Musical," which in collaboration with G-N Fine Arts Alliance drew more than 1,300 attendees; a successful summer Arts Academy, with fall enrollment now in progress; and Stewart Gallery exhibitions of local artists Judy Mitchell and John Pfitsch.
Earlier this year, GAAC was one of six regional organizations recognized by ArtsLab for strategic arts initiatives. GAAC board members include: Wright, president; Rob Clower, vice president; Joanie Heimsoth, secretary; Austin Jones, treasurer; Wendy Abrahamson, Jerry Brown, Kelly Guilbeau, Michael Hunter, Darcy Kline, Jess Lease, and Ivy Schuster.
The "Leave It Better Than You Found It" award commemorates the August birthday of the late benefactor Claude W. Ahrens. In a 1993 speech to the National Recreation and Parks Association, Ahrens challenged those in attendance to follow the sage advice of his father John, "to leave the world a better place than you found it." To date, more than 300 area individuals, groups and organizations have been honored by the annual recognition program.