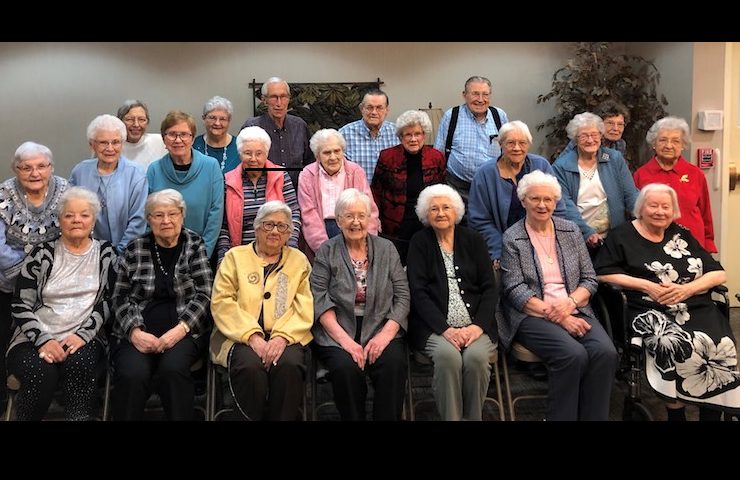 (Grinnell, IA – March 12, 2020) Tenants and staff celebrated the Hammond Center's first anniversary with a special dinner on March 4. The festivities began at 4 PM with appetizers and beverages followed by a short program which included a special appearance from Connie the Contractor a/k/a Betty Hammond. "Connie" thanked Executive Administrator Dion Schrack for having the vision years ago to add an assisted living community to the campus and told everyone that she was available to build another addition when needed! "To be full within a year and have a significant waiting list definitely shows that there will be a need for more assisted living apartments in the future," said Dion with a smile.
The program continued with Hammond Center Activity Director Abby Moyer recognizing major donors attending the dinner, including Seeland Park residents Ken & Mary Eggman and Betty Hammond. "Without your gracious generosity, we would not have such a wonderful place to live or work," said Abby addressing the donors. Abby then played a power point presentation of photos set to the tune of "Celebration," showing the June 29, 2017 celebratory groundbreaking, the construction process, the 22 tenants on their move-in days, and many other memories from the past year.
Leila Maring, the first tenant to move in to her apartment on March 4, 2019, spoke on behalf of the tenants, offering much praise to their always smiling and cheerful leader, Manager/RN Sammi Bryan, who Leila says, "goes above and beyond to ensure that everyone is happy and healthy."
Sammi concluded the program by saying, "I'm thankful for all of the wonderful tenants who are part of our Hammond Center family; and I appreciate our awesome staff who provide quality and compassionate care and help to make everyone's days easier and happier."
Promptly at 5 PM, St. Francis Manor culinary staff served an amazing dinner of filet mignon, blackened grilled shrimp, twice-baked potatoes, edamame mix, Caesar salad and rolls followed by a dessert of crème brulee. "The entire evening was a wonderful celebration of a great accomplishment," commented Tiffany Criswell, Administrator/RN, who was instrumental in both the construction of the Hammond Center and the startup of assisted living operations.
The Hammond Center for Assisted Living has 20 private apartments and is part of the St. Francis Manor Life Plan Community which includes Seeland Park, a 55+ independent living community with 145 residences; and St. Francis Manor, a nonprofit skilled nursing and long-term healthcare center. Residents of the greater Grinnell area may also obtain services through the Rehabilitation Clinic of St. Francis Manor which provides outpatient/inpatient physical, occupational and speech therapy services; and Community Services of St. Francis which provides a variety of private-duty home healthcare services. For more information about the various services provided, visit www.stfrancismanor.com or call 641-236-7592.