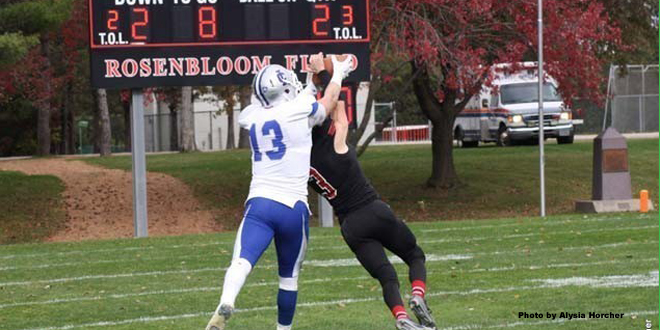 GRINNELL, Iowa – Too much Michael Bates proved to be the difference as the Grinnell College football team fell to Illinois College 35-10 Saturday afternoon at Rosenbloom Field.
 
Bates passed for four touchdowns and 324 yards as the Blueboys improved to 2-0 in the Midwest Conference South Division and 4-2 overall. Grinnell fell to 0-2 in the division and 1-5 overall.
 
Sam Poulos '16 completed 16-of-28 passes and 111 yards for Grinnell. Greg Ruzich '16 had seven catches for 46 yards, while Zach McGriff '18 added four snags for 44 yards. Jacob Bernholtz '17 led the rushing attack with 57 yards.
 
On defense, David Ternes '15 led the way with 12 tackles, Daniel Munger '15 added 11 and Jacob Beecher '16 came up with 10. Richard Renteria '15 had a sack.
 
After a scoreless first quarter, Illinois College struck for two touchdowns in the second frame. Grinnell followed with a drive late in the half that stalled, leading to a booming 42-yard field goal by Graham Fisher '16 with 17 ticks left to make it 14-3 at halftime.
 
Illinois College added a touchdown in the third quarter and one more in the fourth for a 28-3 lead.
 
Grinnell then put together a 14-play, 71-yard scoring drive that was capped by a 13-yard TD pass from Harrison Hoegh'18 to McGriff with 8:47 to go. Fisher's extra point made it 28-10.
 
The Blueboys tacked on another touchdown after that for the 25-point win.
 
Grinnell heads to Galesburg, Ill., next Saturday to face Knox College. Game time is 1 p.m.