Homepage Slider
$19,000,000 In USDA Rural Development to Grinnell & Poweshiek County Under Menners Tenure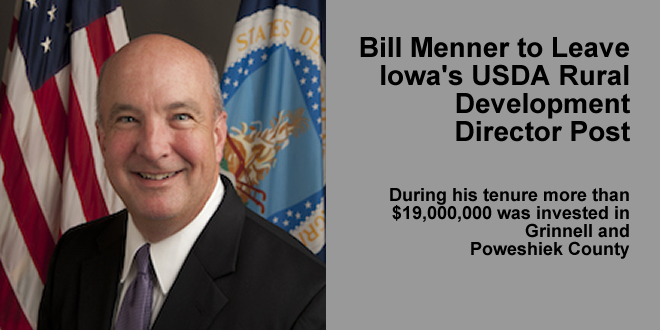 USDA Rural Development Invests Nearly $5 Billion in Rural Iowa Since 2009
Funding Created or Retained Nearly 10,000 Jobs, Assisted 20,000 Households with Home Purchases and Supported Community Improvements to Facilities, Services and Infrastructure.
——————————————–
From 2009 to 2016 – during Grinnell's own Bill Menner, the USDA Rural Development's State Director in Iowa – here is a look at how his agency assisted Grinnell and Poweshiek County:
• Housing Programs – mortgage loans to folks living in Grinnell and surrounding communities
$13.7 million
• Community Programs – loans and grants for community-improvement projects such as:
$3.5 million loan to Hammond Center LLC
https://www.rd.usda.gov/newsroom/news-release/usda-rural-development-awards-35-million-loan-help-construct-new-assisted
• $341,500 loan to Diamond Life Health Care, Inc.
• $1.05 million loan to St. Francis Manor, Inc.
• $24,000 grant to Deep River Volunteer Fire Department
• Business Programs
• $600,000 to assist many area businesses in their efforts to make energy-efficiency improvements to their operations
• $300,000 rural economic development grant to T.I.P. Rural Electric Cooperative of Brooklyn.  The funds were used to assist with renovations at Grinnell Regional Medical Center. 
In total, more than $19 million in USDA Rural Development funding has helped Grinnell and surrounding communities in Powesheik County since 2009.
————————————————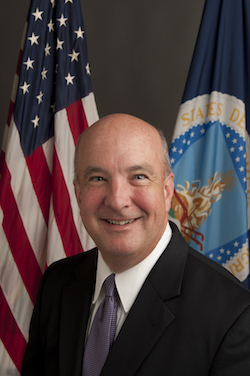 DES MOINES, Iowa – January 12, 2017 – As President-elect Donald Trump prepares to take office, Bill Menner, outgoing USDA Rural Development State Director in Iowa reflected on his almost eight years in that position.
Menner was appointed by the Obama administration in July 2009, and inherited an organization of more than 120 employees focused on serving rural Iowa.  In the seven and a half years that followed, Menner and his USDA Rural Development colleagues helped invest almost $5 billion in Iowa small towns and rural areas. At that same time, the size of the USDA Rural Development team in Iowa was reduced by 25 percent.
It's amazing to think back about all of the projects we have assisted at USDA Rural Development, Menner said.  And, $5 billion is a lot of money.  It has helped families purchase homes, communities build critical facilities such as fire stations or libraries, along with launching and expanding businesses, or sometimes just keeping the doors open.
Menner joined USDA just as the American Recovery and Reinvestment Act of 2009 (ARRA), better known as the stimulus package, was taking root. ARRA provided USDA with billions of new dollars to help jumpstart the economy in the wake of the Great Recession.  It provided resources rarely seen within the agency.  It also positioned Rural Development to help businesses that were on the verge of collapse.
I remember a loan guarantee for a manufacturing plant in northeast Iowa, Menner said.  The recession hit the company hard and a loan with a private lender fell through.  More than 30 workers were facing layoffs.  We were able to use our Business & Industry loan guarantee program to give the bank some protection as it made the loan.  The company never laid off a single worker, the doors were kept open, and it wound up eventually adding to its workforce when conditions improved.
Menner also arrived at a time when a central Iowa water utility was facing a crisis.  Service to more than 9,000 households was at stake because the system had overextended itself, was more than $120 million in debt and unable to make loan payments.
That was a difficult situation," Menner recalled.  "Access to clean water is obviously critical to every rural resident.  And in this case, the system's customers were facing huge rate increases.  Although negotiations took almost four years, USDA was able to restructure its loan and reassure private bond holders.  Today, that water system is making its loan payments and operating successfully.
Menner also oversaw significant investments in rural health care through expanded services, new equipment, telemedicine and improved facilities. He says this is the element of his USDA tenure for which he is most proud.  Since 2009, USDA has provided grants, loans and loan guarantees totaling $500 million for rural Iowa hospitals, clinics, assisted living facilities and other health-care related projects.
"I have been a hospital trustee in my own rural community and know the importance of health care and access to it for residents in small towns and rural areas," Menner said.  Rural residents should not have to give up access to doctors and other providers just because they live in a rural area.
USDA Rural Development's nearly $5 billion investment into rural Iowa the past eight years would not have been possible without partnerships and collaboration.
Progress only happens through partnerships, Menner added. Together, we have served the needs of rural residents and places to ensure that rural Iowa, and rural America, continues to thrive and drive the economy. It has been a pleasure to work collaboratively with all the communities we serve as they make investments to positively impact many future generations.  As I step away from my role as state director I look forwarded to seeing the ongoing ways USDA Rural Development staff and programs continue to improve the lives of rural Iowans.
Contact USDA Rural Development
For more information about finance programs available through USDA Rural Development, please call (515) 284-4663 or visit the agency's web site at www.rd.usda.gov/ia.
USDA Rural Development has 11 offices across the state to serve the 1.7 million Iowans living in rural communities and areas.  Office locations include a State Office in Des Moines, along with Area Offices in Albia, Atlantic, Humboldt, Indianola, Iowa Falls, Le Mars, Mount Pleasant, Storm Lake, Tipton and Waverly.
USDA is an equal opportunity provider, employer and lender.