Grinnell News
Clark named Director of Web Services at Grinnell Mutual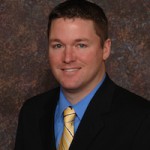 Denny Clark was promoted to Director of Web Services in Grinnell Mutual's Business Information Services (BIS) division.  Denny has worked as an IT professional for Grinnell Mutual for the past 12 years, beginning his career as a business analyst.  He has worked as the manager of Automation and manager of Web Services for seven years.
Clark graduated from the University of Northern Iowa with a bachelor's degree in Finance. He holds the Associate in General Insurance (AINS) designation from The Institutes.
He and his wife, Beth, reside in Grinnell and have two daughters, Laynie and Katie.
About Grinnell Mutual
Grinnell Mutual Reinsurance Company, in business since 1909, provides reinsurance for farm mutual insurance companies and property and casualty insurance products through more than 1,600 independent agents in 12 Midwestern states. Grinnell Mutual is the 123rd largest property-casualty insurance company in the United States and the largest primary reinsurer of farm mutual companies in North America.