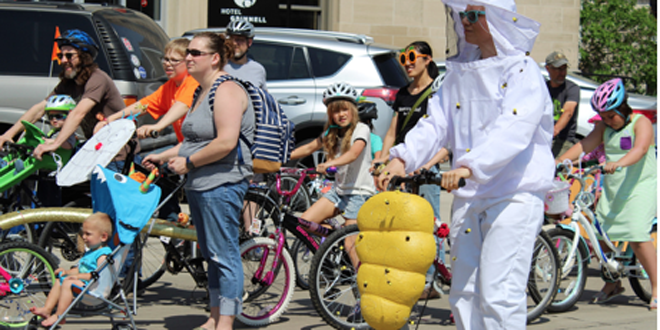 Bikes to Art Two Mixes Tacos, Tunes, and Decorating Talent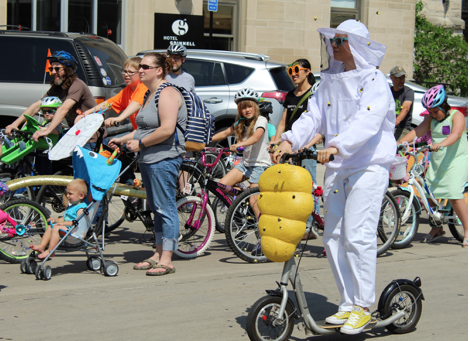 By Michel McAllister
Hmmmmm—Royal Wedding or Bikes to Art?
The royal couple was considerate enough to wrap things up early Saturday morning, Iowa time, thus sparing Grinnellians that conundrum.
And those who took advantage of Prince Harry's and Princess Meghan's generosity found themselves treated to an entirely different—but no less credible—form of pageantry.  Granted, it did not have hundreds of years of tradition behind it—only one—and, granted, it could not match the Royal Wedding's degree of solemnity; but what the event lacked in history and liturgy it more than compensated for in creativity and charm.
If Harry and Meghan can be declared the Duke and Duchess of Sussex, Ryan McGuire and Melissa Berman (below)—creators and organizers of Bikes to Art—ought to be declared Grinnell's Duke and Duchess of Success.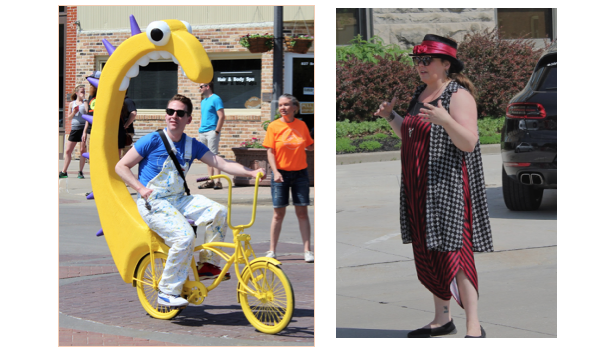 Bikers assembled at the Drake Community Library for decorating bikes and for touching up.  The parade moved south on Park Street, turned west on Third Avenue after passing Central Park, hooked a right on Broad, headed all the way to Fifth Avenue, east to Park, and wound up back at Central Park for food, entertainment, and prizes.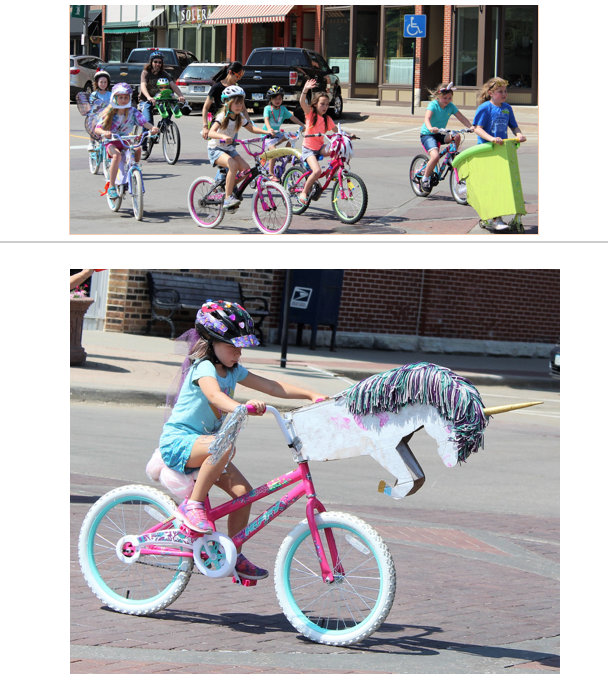 A good many other people enjoyed the park as well.  It was a perfect park-appreciating day.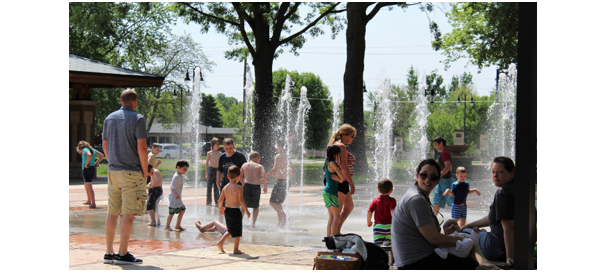 The Aaron Short family from Des Moines, billed as The High Crest, offered folk- and blues-based music from the Central Park bandstand.  Musicians are Aaron, Kat Darling Short, and their daughter Abileen. The youngest member of the family already displays an inclination toward percussion.  Among the selections was Abileen's rendition of Ben E. King's "Stand by Me," coincidentally also chosen by Harry and Meghan as part of their royal nuptials.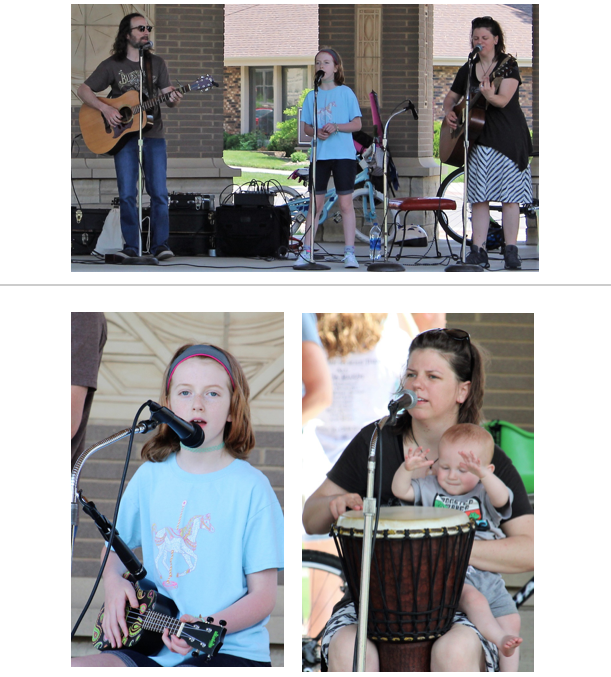 While music played and people enjoyed free tacos courtesy of the Purple Cucumber (more than 300 tacos were served), judges Lee Runnings, Colleen Klainert, and Stella Berman deliberated.  The High Crest blended well with an impromptu rhythm section.

Before announcing winners, Ryan McGuire thanked the event's sponsors:  Sam Berman & Sons, the Drake Community Library, Grinnell Heritage Farm, Bells Design, Prairie Tonic Kombucha, Van Tomme Landscaping and Concrete, Jessica Greenwell Photography, Grin City Collective, Imagine Grinnell, Latcham Enterprises, The Edge Hair Studio, Total Choice Shipping and Printing, Hy-Vee, the Purple Cucumber, Peace Tree Brewing, and all the event's volunteers.
Peace Tree donated so many gifts that McGuire stated, "If you win something today, you will win something that's Peace Tree related."
"Support local businesses because they support us," McGuire added.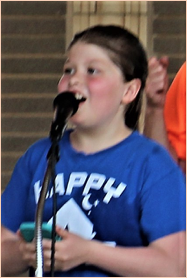 And then came the awards, announced by (following a fairly credible Brando impersonation by McGuire) STELLABerman (right):
In the children's category:
Third Place:Dragonfish Bike, Nora Bustin Laver
Second Place:Carrot Bike, Leonora Dunham
First Place:Purple Rocket Bike, Frances Petersen
In the adult category:
Third Place:Camera Bike, Jessica Greenwell
Second Place:Peace Tree Bike, Sam Moorman
First Place: Rocket Bike, Karen Klopp Edwards
Below top; Francis Peterson, center, among enthusiastic supporters. She also won a BMX bike valued at more than $300. Lower left; Lenora Dunham (Lenora won a bicycle helmet donated by Bikes to You). Lower right; Nora Austin Laver