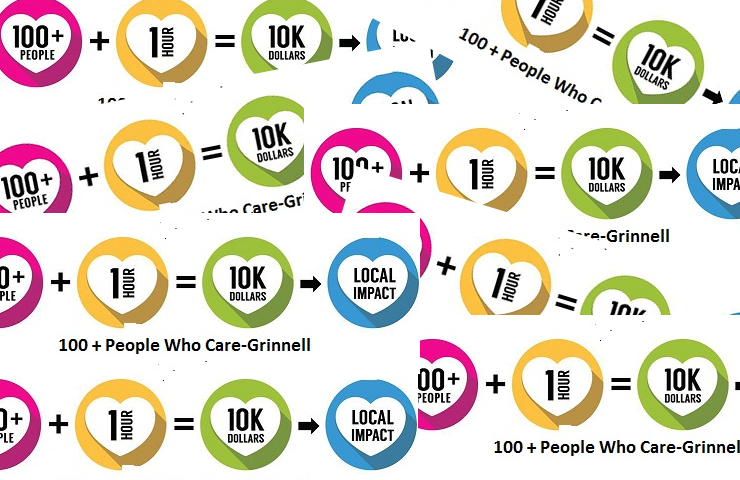 The regular face-to-face meeting of 100 + People Who Care – Grinnell, scheduled for Tuesday, April 28, is being cancelled for Covid-19 precautions. The important work of the organization will continue, however, as members communicate by mail, e-mail and Facebook.
The directors of 100 + People Who Care – Grinnell are inviting members to identify an organization in the greater Grinnell community that focuses on local needs arising from, or exacerbated by the Covid-19 pandemic. Members are then asked to report the name, the urgent need being fulfilled, and mailing instructions for the chosen organization by April 20. The directors will compile this list and distribute it to all the members, inviting members to select at least one to receive their financial support. Given the tragic circumstances of this time and the urgency of the needs, it may be that members will be able to support more than one organization with at least $ 100 contributions. Directors note this is a special circumstance of response to urgent needs, so organizations that have received funds within the past two years are eligible to receive funds again, and receiving funds from this quarter's pooled philanthropy will not prevent an organization from being nominated at a future meeting. The compiled list of helping organizations will also be shared with the community, with an invitation to others to extend generous support in this time of urgent need.
100 + People Who Care – Grinnell was organized in January, 2017, as a way its members can pool their philanthropic intent in order to make a significant difference in the life of an area organization. By pledging to contribute $ 100 per quarter to a member-nominated organization, and then pooling their resources through the nominating and voting process, 100 + People Who Care – Grinnell makes a significant impact to meet local needs. Since its inception, 100 + People Who Care – Grinnell has generated more than $ 107,000 to support eleven different entities.
For further information regarding 100 + People Who Care – Grinnell, please contact any of the board members: Christine Day (641-485-6180), Dennis Day (641-485-6118), Donna Ricks (319-269-9626), or Al Ricks (319-269-3475). Donna Ricks serves as the point coordinator for membership questions, with her e-mail contact being djrteach@msn.com. Christine Day serves as the point coordinator for nominations and administrative questions, with her contact e-mail being cday7117@gmail.com. Any of the board members may be contacted regarding this months special nomination and selection process.